Jeremy Scott
Hang on for a minute...we're trying to find some more stories you might like.
Photo Courtesy: Vogue.com
"I'm trying to make joy. I'm trying to make happiness, and I don't consider that superficial. That I consider extremely necessary," says Jeremy Scott to I-D Magazine.
According to Vogue Magazine, Jeremy Scott never discards an article of clothing. Once when he was 13, he threw away a t-shirt that he thought he didn't like, only to regret it a week later. Everything that Scott has ever owned or created has been stuffed into a box somewhere.
In his latest collection, this box was opened.
Joy was what he did. Kansas City native, Jeremy Scott, experienced his 15th year of fashion shows while debuting his spring+summer collection of 2019. Spanning over 64 outfits and ranging from shades of neon orange to army green, Scott fills his collection with words that have been swarming millennial culture while still alluding to the Club Kid era that he was a part of.
The most telling part of this collection that showed his inspiration was through a print that was filled with old polaroids of him wearing head turning hairdos with a matching makeup look. While heavily referring to the 90s and the club kid era, none of Scott's looks come off as dated or vintage. Instead, these looks represent a joyful look at who Jeremy Scott was.
To see the full collection check out: https://www.vogue.com/fashion-shows/spring-2019-ready-to-wear/jeremy-scott#collection

About the Writer
Nathaniel Smith, Magazine Editor
In the world of fashion, styles are always changing and it can be hard to keep up with what's in. It seems like every day, the clothes you wear are out of style. It can also be very expensive to buy high fashion clothes that thousands of models can be seen in. In Baroque Couture, I will transform a simple dress from Goodwill into a look that's ready for a Parisian runway.
Baroque (ba·rōk) refers to an era in 1600s French society. People that wore baroque style clothes were normally associated with higher class and government power. Now, the word simply means clothing that celebrities pay thousands of dollars for.
Couture (coo·ture) goes hand and hand with baroque. Couture can be totally outside of the box when it comes to fashion, or it can be a simple black dress. Couture is the clothing you wear that makes you feel confident.
On the inaugural installment of Baroque Couture, I'll show you how to get your materials and how to sketch the idea you have in mind. Creating a killer look takes tons of practice and dedication, so don't get worked up at the fact your ideas aren't transferring properly.
The first thing that most designers do is get an inspiration. What kind of look are you trying to go for? Formal? Casual? Whatever it is, make sure you have a direction you want to go in. What I did was look at different websites like forever21.com or coach.com. I also looked at key fashion icons like Rihanna or Beyoncé. All artists have an inspiration. Everyone's style is different though, take what information you want and run with it.
After you have a broad image in your mind you need to start thinking of what kind of colors you want to have in your garment. Simple websites like coolors.co or color.adobe.com helped me find the perfect colors that I wanted to see appear in my piece. Sometimes I get carried away with the websites, that I spend hours looking at color combinations. You could have as many colors as you want in your outfit. Something I normally do is have a primary color, secondary color, and an accent color.
Coolors.co uses an AI algorithm to match colors up with precise accuracy. A primary color is the color you want to see appear the most in your outfit. This should be the main color in a pair of pants or shirt.
The secondary and the primary color go hand and hand. They work together to appeal to the eye and when they are both used, the secondary color brings out details in your outfit that people normally wouldn't see. Use the secondary color sparingly though – we're not trying to go for a yin and yang look.
The accent color should be seen the least in your outfit. Its purpose though is to wrap up your outfit and make it look compete. The accent color doesn't always have to be fabric though. You could accessorize with jewelry or handbags that match the same color.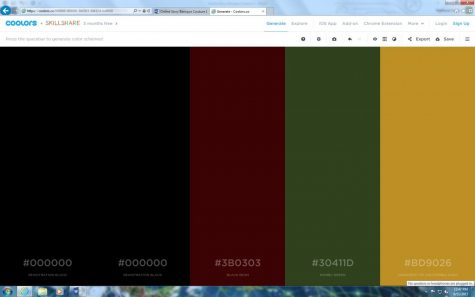 Upcycling an outfit from a thrift store takes days' worth of preparation even before you step into the store, but now you can. Upon arrival have open eyes and an open mind. You never know what is going to jump out at you. Don't worry about time either because it takes hours upon hours to create the perfect outfit. The color of the outfit might be slightly darker or lighter than your original color swatches.
Once you found the outfit that you see potential in, begin sketching what you want the garment to look like. It can be simple as stick figures or as complex as a detailed drawing. If the sketch will help you visualize your goal for the garment.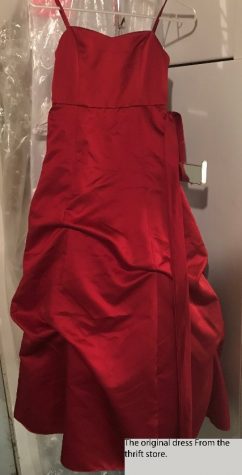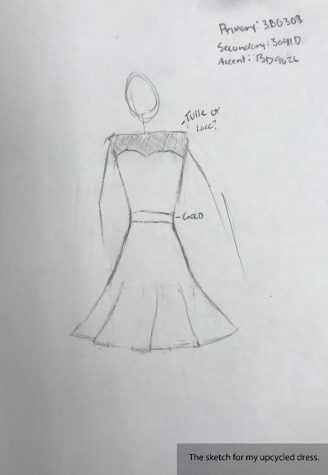 As you look at your sketch and your garment, start thinking about how you are going to achieve this look. You may need to look at additional tutorials on sewing techniques to successfully upcycle your outfit. Sewing outfits take a lot of time, so don't be discouraged if you make mistakes during the first few stitches. In the second installment of Baroque Couture, I'll show you how to begin to transfer your idea to the fabric. In the meantime, begin to practice sewing on scrap pieces on fabric. Look at tutorials on YouTube to expand your sewing knowledge. Also keep a look out for new articles of clothing that appear in your nearest thrift store. You could always make more than one outfit.