OPS staff explain how to get recruited
Many high school athletes have their eyes set on the next level of athletics, college. Yet, many student athletes rarely know where to start their college recruitment. 'How do I get colleges to notice me? What do I need to do to become the next collegiate athlete recruit?' Are among the most commonly asked questions.
As college decisions come up, student-athletes are considering their options and those not graduating in the spring are starting to consider their prospects as well.
One of the first and most important steps to recruitment is getting a college's attention. Sometimes just being a good athlete and having a supportive coach is all an athlete needs, but sometimes athletes need to do a little more work to get out there to colleges.
Daniel Bartels, former athletic director at Omaha North, said, "Many athletes self-promote. Call or email schools or coaches they are interested [in]. They also lean on their high school head coaches to promote them to college coaches."
Talking to high school coaches can be a great starting point. If the coach is aware of your decision to pursue collegiate sports, they may be able to contact college coaches for you. Another way is to directly contact the coaches from colleges students are interested in directly.
Stephen Eubanks, District Supervisor of Athletics, said, "Colleges and Universities are looking for well-rounded student-athletes. The coaches are truly investing in their players. They desire talented athletes who take academics seriously those who will work hard to achieve their goals. College recruiters are also looking for students who are good citizens. They want high quality players who will represent their institution with dignity and honor."
Though self-promotion is important to the process, signing up on the NCAA Eligibility Center website (formerly the NCAA Clearinghouse) is another great way to starting the recruitment process. The website serves as a way for student athletes to create profiles including their transcripts, ACT/SAT scores and an amateur status questionnaire.
For NIAI schools there is another website, playnaia.org, that athletes can create profiles on much like the NCAA's.
The greatest difference in the two is the price and what schools are able to view your profiles. Though both websites can calculate a student's academic eligibility.
It's suggested that students apply to the NCAA Eligibility Center at the start of their junior year to avoid the backup that can come at the end of the school year of athletes trying to get cleared for recruitment. Approximately 18,000 students register with the NCAA every year.
Due to the high numbers, only about 40 percent of students are actually recruited every year. 40 percent sounds disheartening, but that's still 7,200 athletes a year. Not to mention the ones that get recruited without ever having to sign up for an NCAA account.
Bryson Wiser, the advanced education counselor who works with students pursuing collegiate athletics, will start working with some students as soon as their freshmen or sophomore years.
"We need those coaches to identify [players] early," said Wiser.
Talking to a guidance counselor can be beneficial to athletes pursuing collegiate sports. By doing so, counselors will be able to ensure student-athletes take the courses that are required to be academically eligible.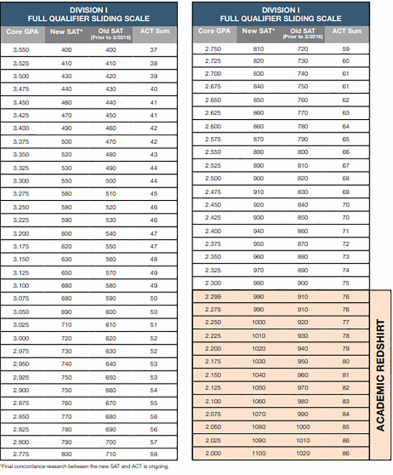 The NCAA clearinghouse calculator has a sliding scale (depicted in the graphic) for the different divisions' academic requirements. Division 1 has the hardest standards then the standards get easier respectively per division. Standards are based upon the student's core course GPA and ACT summative scores.
For example, a student with a 3.25 GPA would also need a 46 ACT sum, to academically qualify for D1 athletics. The ACT aspect of the scale is the total of the highest individual scores (superscored) added together. If a student has a 19 on the math, a 30 on the English, a 28 on the science and a 25 on the reading, the student's ACT sum would be 102.
"I try to get kids eligible for D1 schools because if they qualify for that, they qualify for the rest," said Wiser.
Pursuing a dream as big as collegiate sports can be scary for some which is why knowing the first steps to recruitment are so important. Creating connections and ensuring eligibility are vital in this journey.
Another challenge in the process is knowing what schools are the right fit for a student. Finding the right school is very important to not only athletic recruitment, but the student's college plans in general. Playing a sport is never worth going to a school that doesn't suit a student's wants and needs from a school.
"High school student athletes should do research on schools he/she would like to attend. I encourage athletes and their families to visit the campus (unofficially) to get a feel if the school is the right fit. Athletes should make sure the school offers their program of study, talk to current students, investigate the cost of tuition, room, board, fees, check out the residence halls, and feel comfortable with the coaches and teachers," said Eubanks, adding,
"During the recruiting process a student-athlete can be invited for an official recruiting visit. Acceptance of any scholarship must be signed by the student-athlete and his/her parents."