Everybody enjoys fall sports, but with the season coming to an end, North High School coaches are looking to recognize athletes for their achievements. Watching football games, golf matches, volleyball games, softball games and cross-country meets gives some excitement.  
  Head coach Larry Martin of North's football team believes they were blessed with good players.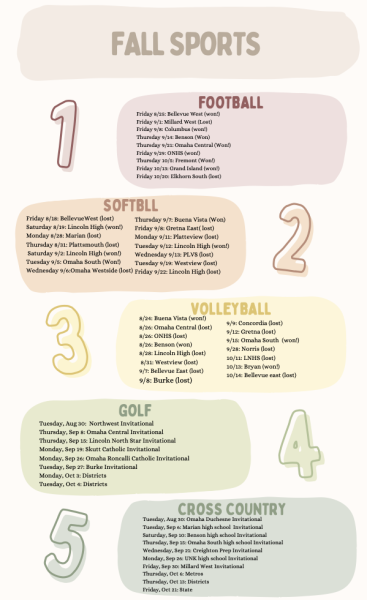 Martin spotlighted Sebastian Circo, 11, and Jaron Cannon, 10, who both showed a lot of strength during the football season. 
 Cannon is the running back for Omaha North's varsity football team. He has been playing running back since he was a child and plans to continue in college. Cannon's favorite part of football is learning.  
 "You learn, sports in general teaches you life lessons in the real world, it helps you in life," Cannon said.  
 Circo plays quarterback for Omaha North's varsity team. Growing up, he would watch football on television and play video games based on it. This encouraged him to start playing in third grade and he has not stopped since. Circo had big goals for this year. 
 "Just trying to get to the state championship, because we didn't do that last year," Circo said. 
 Head coach Marquita Bowden of North's volleyball team believes this season was better than last year due to more athletes producing on the court.  
 Bowden spotlighted Ann Marie Meiman, 12, who showed a lot of strength during this volleyball season.  
 Meiman has been playing volleyball for about ten years. Her mom put her in the sport, and she has been playing ever since. 
 "My mom just put me in it, and I liked it," Meiman said.  
 Meiman's support system is what kept her pushing because they would back her up no matter what. 
"My favorite this season was when we got to go to the University of Nebraska at Lincoln's Nebraska Volleyball Day," Meiman said. 
 Head Coach Eric Janecek of North's softball team believes they were way better this year. They went from three wins to 11 wins.  
 Janecek spotlighted outfielder JayLea Baker, 12, who showed a lot of endurance during this softball season.  
 According to Baker, she enjoys her position because it is less intense than infield. The encouragement and morale from her current teammates was her favorite part of the season.  
 "It is my senior year, and my last year playing," Baker said.  
 Head coach Andrew Zimmer of the cross-country team believes the season went great. They had a lot of success, which was due to faster race times, and good team bonding.  
 Zimmer spotlighted Isabella Saxton, 10, who showed a lot of effort this season. She put in a lot of time this summer, putting in a lot of miles, running a lot on her own, showing up to summer workouts almost every day, and getting even better during the season.  
 "I think a lot of it was the team atmosphere and knowing I have my teammates to support me," Saxton said. "I think another thing is the hard work I've put in running and cross country in general."