Sigler suits up for one last game
Senior Ryan Sigler has been unable to play his entire senior year of football thus far. Two years ago, Sigler injured his back while lifting weights and caused an L5 S1 herniation, which was left untreated and continued to cause Sigler pain during the season and off season.
A herniated disc is a disc that tears and the soft disc material herniates (is displaced and protrudes) outside of the disc, according to physical therapist Kenyon DeHaan. Typically, a herniated disc is seen in patients between the ages of 30 and 50, so Sigler's injury is not typically seen in teenagers.
"The injury is quite common for someone to have some disc bulging due to the fact that many people sit for their jobs or bend forward excessively to lift. Prolonged or repeated forward bending of the spine puts pressure on the disc making it bulge posteriorly. As the disc material continues to slowly push against the disc, it continues to bulge further until it can eventually break
out the last part of the disc and herniates," said DeHaan.
After doing 13 weeks of physical therapy this past spring, Sigler went to an orthopedic surgeon after
not finding relief in physical therapy. Sigler's treatment started with epidural steroid injections and moved on to eventually having a surgery to cut the herniation.
Sigler will have to have another surgery to fix a collapsed disk that is in the same location as the previous L5 S1 herniation.
"Surgery to remove the herniation is the last option if other treatments do not help," said DeHaan.
These treatments include physical therapy, pain relieving medications and MRI and will take typically 6-12 weeks to recover.
After a long wait to suit up and run onto the field with his "brothers," Sigler suited up for the final regular season game. October 18 was his first game back and it was a big moment for him. Sigler had planned to play in the senior night game on October 12 but was deemed ineligible by the state for not having a full week in pads prior to the game. Though Sigler had been practicing since the Monday before the game he had not been in full pads on Monday or Tuesday, along with the rest of the team.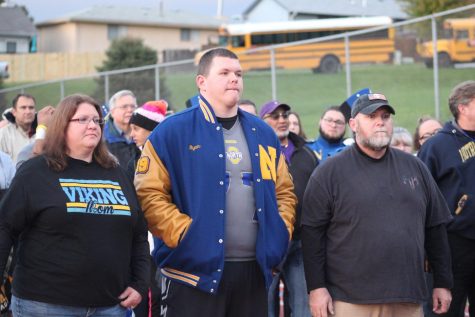 While football is a big part of his life now, Sigler hasn't always been the athlete type. Sigler started
playing football in fourth or fifth grade, because his mom made him join a team. After joining in elementary school, football become Sigler's life.
"I actually hated sports before then, with a passion…but I started playing football and I was hooked, this is my life, this is all I know…This is all I do anymore," said Sigler.
Because of not being able to play since state last November, Sigler is worried his skill level may not be where it was at last season.
"I know I'm not gonna be as good, but I've been lifting so it's not like I haven't been doing anything," said Sigler.
Sigler has been doing some light lifting and gradually increasing weight, hoping to have some strength before going back to football. Due to Sigler's original injury being caused by a poor lifting technique, he has had to take it slow and learn a safer way to lift to prevent further injury.
For athletes wondering how to prevent this or a similar injury, DeHaan said "It helps for someone to learn good lifting mechanics and to avoid poor postures during the day to prevent putting
too much pressure on the discs. It can also help to do exercises for hip strengthening as well as back and abdominal strengthening exercises to better support the spine."