Educators Rising returns to North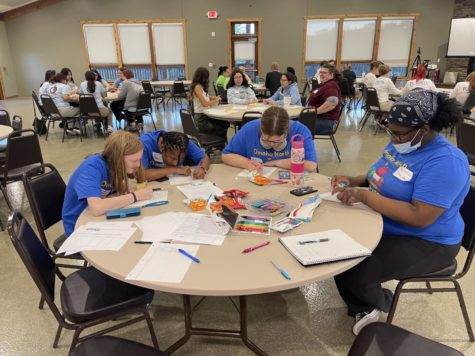 Sydnie McNeal, North English teacher, and Addison Krebs, North science teacher, are working to bring together a young educators group that was put on pause after the COVID-19 pandemic hit.
They are the newfound sponsors of the group, Educators Rising (Ed Rising), after the group's main sponsor left back in 2019 for reasons that were unidentified. Following the leave of the group sponsor, the pandemic hit, which caused the group to be placed on hold due to the lack of students involved, until now. 
McNeal and Krebs both equally run the club, and it is incorporated with students from the Science and Research Academy. Even though students are mainly pulled from the science and research field, the organization is open to students in all academies. 
"We're accepting other kids from other academies too because they could still have an interest in teaching and working with kids," McNeal said, "or just building leadership with volunteer experiences."  
They feel passionate about leading this group, in the hopes of spreading knowledge to future teachers, and opening their program up to more students that are planning to go into the teaching field. 
"If we can find kids that have that passion, even if it's a small group of kids, we want to nurture that," McNeal said. 
This is the first year that McNeal and Krebs are going to be branching out their club since the pandemic hit, they are interested in pairing their club with other groups.
The sponsors would like to expand their group to more students, mainly freshman and even sophomores throughout the school as they decide what career path they wish to pursue.