COVID-19 Vaccinations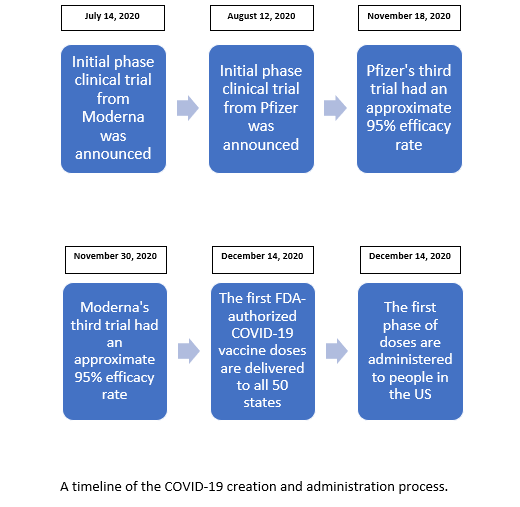 On a race to develop a COVID-19 vaccine, Moderna and Pfizer, two of many of the types of vaccines made to fight against COVID-19, according to the Will Brothers were known as the main leaders. Both companies were known as the only ones to take the mRNA approach towards making the vaccine. Most vaccines put a weakened or inactivated germ into the body to allow it to fight back, as ktvb.com stated, while the mRNA is a vaccine approach that teaches the body's cells to only make part of the virus, rather than the entire germ. 
An initial phase clinical trial from Moderna was announced on July 14, 2020. About one month later, on August 12, Pfizer announced their initial phase clinical trial. Reports from CC0 Public Domain say that during a first phase trial of a vaccine, around 100 healthy volunteers are brought in to test for dosing and tolerability levels. At the second phase, more volunteers are brought in to test these qualities. At phase three, a large number of volunteers are brought in to test efficacy, meaning that doctors test how well the vaccine will work and how efficient it can work. 
Moderna and Pfizer's third phase trials ended with a 95% efficacy rate and were approved by the FDA for widespread use.  
On December 14, 2020, the first vaccine doses were delivered out to all 50 states and were being administered to first phase people. The CDC recommends people who are in long term care facility residents and health care personnel to get the vaccine in the 1a phase. In the 1b phase, the CDC recommends persons 75 years and older as well as frontline essential workers to get the vaccine. In the 1c phase, persons 65-75 years, along with persons 16-64 years and other essential workers are recommended to get the vaccine. 
Nebraska's KETV Newswatch 7 announced on January 25, 2021 around 9 p.m. that 112,925 1st doses have been administered, and 24,324 2nd doses have been administered. In Nebraska's vaccination phase 1b plan, people 65 and older, people 18 years and older with high–risk medical conditions, first responders and educators will be allowed to get the vaccine.  
"We expect it's going to be very busy. There's been tremendous interest from this age group and all the 65 and up to get vaccinated." said Phil Rooney, a resource specialist at the Douglas County Health Department. 
February 2 at Christ Community Church– Vaccinations will be provided from clinics on Tuesdays and Wednesdays at 9 a.m. to 5 p.m.  
February 3 at CHI Immanuel Medical Center– Vaccinations will be provided on Wednesdays and Fridays at 9 a.m. to 5 p.m.  
February 4 at the Nebraska Medicine Testing and Vaccination Clinic– Vaccinations will be provided on Thursdays at 9 a.m. to 5 p.m. and Sundays at 9 a.m. to 3 p.m.  
February 6 at Creighton University's Rasmussen Center– vaccinations will be provided on Saturdays from 9 a.m. to 5 p.m.  
MODERNA: First vaccine doses were received between January 20-22 
MODERNA: Second vaccine doses were received between February 17-19 (1:00 pm- 5:00 pm) 
PFIZER: First vaccine doses were received between January 27-29 
PFIZER: Second vaccine doses were received between February 17-19 (9:00 am- 5:00 pm)