Omaha entertainment centers close doors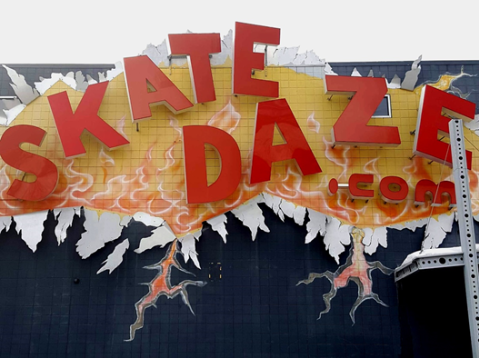 SkateDaze was originally one of eight local rollerskating rinks owned by the Cernik family. When this location opened in 1982, roller skating was its only attraction.
Since then, they've added a three story Playdazium, laser tag, bumper cars, 75 arcade games, birthday party rooms and a café. Scott and Pam Cernik continue to carry on the family legacy while staying innovative.
With over 70 years in the business, the family has experience in providing for their guests and fun for generations of Omahans to come.
The business has been open since 1982. They're closing Feb 5. The last day for business will be Mar. 31 when the last open skate will be held.
Sophomore at Omaha North, Alexis Horton, a former Birthday Assistant/ Coordinator at SkateDaze, said the workplace was friendly and comfortable.
"Everyone knew each other, which made it as if we were all a part of a big family," Horton explained.
Long established, the Cernik family has dominated in roller skating in the Omaha area since the opening of their first rink in 1946.
"I have never once dreamed that SkateDaze would close so suddenly. It shocked me when I received the news. I made a lot of friends and people that we all considered family at SkateDaze, and I really miss everyone that I worked with," Horton said.
In a statement, the Cernik family said that this decision was undeniably difficult.
"It's with a heavy heart that after 73 years of sharing our love of roller skating with Nebraska, that we are here to say goodbye. SkateDaze will be closing its doors end of day on Sunday, Mar 31st, 2019. We have been truly blessed by the support, and patronage of the Omaha community, for which we are forever grateful. We will cherish the relationship and friendships that we have developed over the past seven decades," The Cernik family said in their statement.
The number of employees and customers decreased due to company decisions which caused it to become a more family-oriented company.
The family also said in their statement that they were made an offer they could not refuse on their land.
Throughout their many years of business, SkateDaze won numerous awards for the excellence in service by Best of Omaha and Omaha Magazine. They also received recognition in an article written by USA Today, titled "10 Great Places to Let the Good Times Roll on Skates."
Additionally, near 108th and L Street, Family Fun Center XL has closed. Mar. 3 was their final day of business.
They offered laser tag, paintball, and a vast selection of arcade games.
The management for the entertainment center made a statement thanking Omaha for the past 37 years.
"We have unfortunately found it impossible as a family-owned business to keep our doors open any longer with the changing times of video games in everyone's homes and smart phones, as well as many other factors…the final chapter has come to an end for us," Family Fun Center XL management said.
The closure of both Family Fun Center XL and SkateDaze will mark the fifth and sixth family entertainment center to close in the past six months in the Omaha market.
SkateDaze was considered a favorite to many families, and has maintained its status as a popular site for roller skating. The traditions it created will be missed by many, as will the traditions made in family entertainment centers closing across the city.