Hitting the bricks with a former North High Alumni
As the students of North High walk the halls, it may not have crossed their minds that some of their teachers once walked the same path as them. Here is a look at one of the former students that came back to North as a teacher.
Logan Thurston, a new art teacher, graduated from North High School in 2016. While in high school, Thurston participated in several activities, such as football, track and other advanced academics.
In addition to being an alumni, Thurston also has another connection to North. His father, Ricky Thurston, serves as a School Support Specialist on the administrative team.
"That had a part in why I wanted to come back to North, but not my ultimate reason," Thurston says.
Logan Thurston is a pottery teacher at North but did not start that way. Thurston started as a graphic designer and picked up an internship here in Omaha. He ended up not enjoying it and chose to pursue an art degree his junior year of college instead. After deciding his major so late in college, he needed to complete an extra semester of college to complete his second degree.
"During this year I was doing a job that paid the bills and realized I wanted to teach as soon as possible," Thurston said.
That was when he found a program at Kearney. After completing said program, he then started his career teaching art at the elementary school level.
Thurston says that he wanted to come back and teach at North specifically because he had always loved and appreciated the community surrounding North.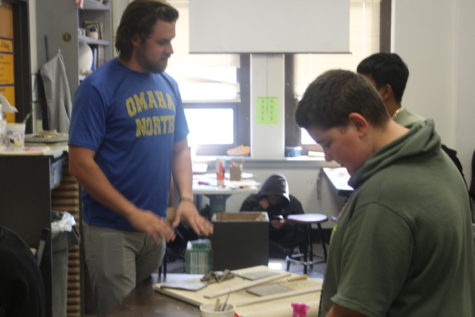 "It's something that people outside of it don't understand. There is a connection when you say you went to North, whether it's talking about saucy fries or the potholes that Ames Street had, there is always something," says Thurston.
A few of Thurston's favorite memories at North High include winning two state football championships as well as being a Guidance Resource Center (GRC) aide. Thurston remembers his days of running up and down the stairs to the third floor and back down as well as hearing the infamous "Hit the bricks, brother man" from former Principal Gene Haynes.
Thurston, however, is not the only North High alumni in our midst. A few other notable alumni include Gina Alati, Ashley Hawthorne and Steven Kirchner. Consider this the next time you are walking through the infamous halls of North High. You may just be walking in the footsteps of some of your favorite teachers.