Quackenbush finds her voice in art
A key component to life is expression. 
Not all people, especially not all students, are able to verbally portray this component of life. In these cases, those students express themselves through their writing, music, or even their sport.  
For Emily Quackenbush, 11, she finds her form of self-expression in art, everything from painting to doodling. 
"I use art to convey emotion that I can't describe. [Art is] a collection of thoughts and feelings," said Quackenbush.  
Ever since elementary school when Quackenbush realized that art is "more than just doodling," she has established it as an essential part in her life. 
Looking back on her elementary school art is considered an eye-opening experience for Quackenbush. She looks to her past art often as a way to "[see] where you were and then realizing that you've improved so much [since then]."  
Since then, Quackenbush has taken art as a class at North ever since Freshman year and also does projects outside of school. Quackenbush said that she is always trying to keep herself busy with art, whether it is a project in her Art 5/6 class or doodles on her homework assignment.  
While Quackenbush started art in elementary school, she did not build the appreciation that she holds for it currently until later on in life.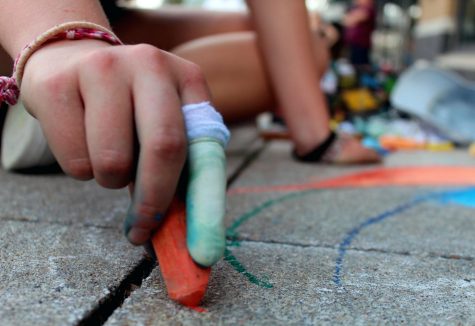 Several years ago, Quackenbush bought a wooden box from a thrift store with the intent on painting it. She started painting it, yet about halfway through she decided to start freehand painting. With no stencil or no pencil outline, Quackenbush, with a wet paintbrush in hand, painted flowers and designs all over her thrift shop box.  
Little did she know at the time, that would be the moment that Quackenbush refers to as the moment when she fell in "love" with art. 
Currently, several years later, Quackenbush has expanded from box painting and is now familiar and accustomed to several different mediums with the intent of trying new ones constantly. Her primary medium is either pencil or pen, yet chalk has been something new in her life. 
While for many students, finding a box of chalk in with their belongings would be another thing in the trash or giveaway pile, for Quackenbush, it was a new experience acquired over the summer.  
She took her newfound box of chalk and began to draw, realizing that this is a form of art that she really enjoys spending time doing. Therefore, Quackenbush recently entered in a Chalk Art Festival. 
This festival took place on September 14th and 15th from 10am to 6pm. Artists who entered in the festival are provided 24 soft pastels and a prize for Best of Show. The festival took place on 31st and Farnam Street.  
Artists are given a 6–foot by 6-foot square panel on the sidewalk where they can allow their inspirations to flow.  
Quackenbush used her opportunity to design her 6 by 6 foot square with a dragon design, simply because she liked the look of the dragons. 
After the chalk dust clears and hands and knees are left colored from the chalk, the sidewalk is lined with unique designs, portraits and pictures that all have unique meanings toward the artists. 
"This is such a cool opportunity for artists to show off and it's making the streets a lot prettier too," Quackenbush said. 
For Quackenbush, her inspiration for most of her work is music and emotion. She said that every one of her pieces have emotion in them, which only adds to the impact of art on her life. 
"Art has given me such an appreciation for everything around me. It's really opened my eyes to see how beautiful the world is."