Senator Megan Hunt advocates for LGBTQ+ rights in Nebraska Legislature
Since her election win in Nov. 2018, the first openly LGBTQ+ Nebraska senator, Megan Hunt of district 8 has introduced a numerous amount of legislative bills. A few of them specifically entail protecting the LGBTQ+ community from various forms of harassment.    
Hunt represents district 8 which stretches as far west as N 83rd street and as east as N 41st street, representing a total of 26,864 citizens according to the Nebraska Legislature.  
On Jan. 11th, 2019, Hunt introduced LB168 and LB167 to ban the practice of conversion therapy for youth. LB168 classifies the practice as child abuse and LB167 bans organizations from advertising or providing conversion therapy to individuals under eighteen years of age. According to the Nebraska legislature website Hunt filed to withdraw LB168.  
With the end of the 2019 unicameral session on May 31st,2019, Hunt may be prioritizing her conversion therapy ban, LB167, for 2020's session but is, "not sure yet." 
Human Rights Campaign lists 17 states and Washington, D.C. and states that have outlawed conversion therapy for minors, Nebraska would be the 18th state if LB167 is passed. 
Junior, Macrina Barber-Holmes doesn't like the idea that there are still places in the United States that have not banned conversion therapy yet.  
"It is proof that as a society, we can act like we're moving forward and taking action, but that it doesn't reach everywhere. I don't want to have to live in a society where there are loopholes and exceptions to rules like this," said Barber-Holmes.  
The following Friday on Jan. 22nd, Hunt introduced LB504 which expands the current standing definition of hate crimes in Nebraska to include crimes based upon a person's gender identity, as well as enhancing civil action and penalties. According to the press release for the legislative bill, on Megan for Nebraska the bill aims to update hate crime statutes to include strangulation. 
Nebraska Legislature's website describes a hate crime as a crime, "following criminal offenses against a person or a person's property because of the person's race, color, religion, ancestry, national origin, gender, sexual orientation, age, or disability or because of the person's association with a person of a certain race, color, religion, ancestry, national origin, gender, sexual orientation, age, or disability." 
Hunt plans on reintroducing all her LGBTQ+ legislative bills and," will be taking the lead on the workplace discrimination bill, which was LB627 from last year." 
LB627 was introduced by her colleague Patty Pansing Brooks of district 28 on Jan. 23rd, 2019. Nebraska Legislature describes LB627, as prohibiting workplace discrimination based upon sexual orientation and gender identity.  
Senior, Ayriel Brown-Love, thinks that by introducing legislative bills protecting the LGBTQ+ community Hunt is making Nebraska more," inclusive and a safe haven." 
Hunt is on four committees for the Nebraska legislature, they include General affairs, Government, Military and Veterans Affairs, State-Tribal Relations, and Urban Affairs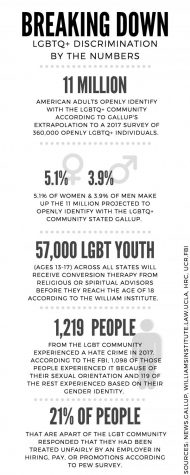 . From being assigned to those committees Hunt has a total of 27 bills that she has introduced.  
A couple of the 27 introduced, specifically LB555 which states adopting the sexual assault emergency care act and provide for disciplinary action against hospitals. Another is LB165 which is titled the Too Young to Suspend Act.  
From the Nebraska legislative website, it further describes LB555 as requiring," hospitals to provide sexual assault survivors with medically and factually accurate information regarding emergency contraception and to dispense a complete course of emergency contraception upon the request of the patient."  
 The Nebraska Legislature website describes LB165, as prohibiting," early childhood education and kindergarten students from being suspended or expelled from school except in limited circumstances." 
Both legislative bills are under referral status.