"Let Them Grow" how about no
Throughout history, many countries have been targeting minorities. Whether it's a hatred of race or ideology, the little guy is always picked on. This can not be more true than in cases such ask the new laws targeting trans youth in Nebraska.
A new bill presented by Republican senator Kathleen Kauth, the bills will make things such as hormone treatments, gender reassignment surgery, and other positive gender-affirming therapies for those under the age of 18 not available. This new bill is one of many targeting transgender youths not only across Nebraska but around the United States.
These bills not only present a challenge and a problem for trans kids under the age of 18, but it also issues consequences to the doctors performing such operations. If a doctor is caught breaking the new laws, they could be hit with civil penalties.
Not only does this have serious ramifications for adults but also for kids who struggle with fitting in. Gender dysphoria is a term for when a person has a strong sense of unease because of a feature or a feeling of having a mismatch between them and their preferred gender identity.
For example, female-to-male transgender people can choose to chest bind which could cause serious problems later down the line if done improperly. Chest binding is when a born female wants to transition to a more masculine presenting gender. They will typically flatten their chest with the use of a chest binder to give the appearance of being more masculine. However, if done improperly it could cause things such as bruised and broken ribs, back pain, shortness of breath, skin damage, and overheating.
Protests across Omaha Public Schools (OPS) happened on Friday, March 31 in recognition of Trans Day of Visibility. This protest aimed to target the newer laws banning transgender kids from things such as bathrooms, sports teams, and locker rooms, as well as receiving gender-affirming healthcare before reaching the legal adult age in Nebraska at age 19. Omaha North, Northwest, Central and Westside Highschool took part in these protests.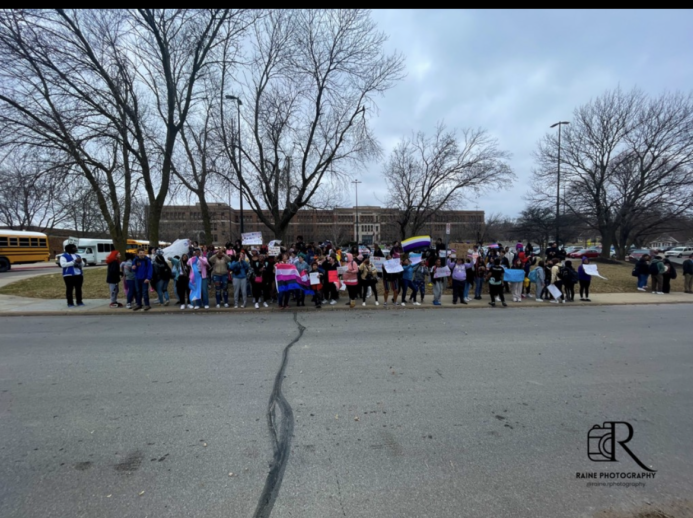 Although these protests were in defiance of a highly disagreeable act by the Nebraska state government, it was not all bad. Many students supported the walkout and there was a reasonable amount of security to keep the walkers not only safe but also in line.
Kamryn Kyhn, 12, remembers hearing about the protest on her friend's Instagram story a day before it happened. She was excited to see the number of students out there walking in support of their peers.
While there were a lot of people walking out, this was in no way a school-sanctioned event. Specific instructions went around to the staff members asking them to note which students left their class and also the times that they left class. Even going to lengths of making an announcement the day of telling staff members to keep students in class until the final bell rang at 3:05.
Metzli Aragon, 10, remembers the moment as being liberating. There were still major concerns about whether or not the protest was going to turn into something dangerous to the students or any staff member or security guard. Luckily though, nobody escalated the situation, and the protestors kept it simple with chants and doing everything in a nonviolent manner.
Among the number of students there, there were also news media members there, such as KETV news, one of Omaha's more notable news sources. Aragon remembers feeling very happy that the media was getting the side of the protestor's story heard.
Trans Day of Visibility has typically been more of a joyful occasion that is meant to celebrate transgender accomplishments as well as how times have changed. This year it was the exact opposite. Therefore, many OPS schools and their respective student bodies or GSA's (Gender
Sexuality Alliance clubs) presented the option of walking out of their respective schools in protest.
The introduction of these new bills specifically Legislative Bill (LB) 574, the "Let Them Grow Act," is going to cause a huge problem for many children who feel uncomfortable in society's normality surrounding gender. These new bills will cause more issues with trust in our local state governments and make it harder to find good mental health support.
Mental health is very important for young children who feel like they do not fit into society. Many kids feel as though if they tell their parents something about themselves that is different, their parents will not understand. Many kids in the Lesbian, Gay, Bisexual, Transgender, Queer, Intersex, Asexual, (LGBTQIA+) community may have heard the phrase "it's just a phase" or "you'll get over it," from parents who either do not know how to handle the situation or refuse to believe in it.
According to the Trevor Project, a popular resource for LGBTQIA+ youth, not only is suicide the second leading cause of death for people ages ten to 24 but the fact that LGBTQIA+ Youths are four times as likely to die by suicide than the rest of their peers. These new laws will only aggravate this statistic around Nebraska, and I quite frankly am terrified to see this statistic rise.
Of course, there is another side to be presented. Some say boys' and girls' sports teams should
be kept separate. And from a certain standpoint, I agree. There shouldn't be women on men's sports teams when it's clear that men are almost always bigger in body weight and height and are a lot of times stronger. However, everyone should have the right to choose that for themselves rather than to be told that they cannot.
Some proposed bills will ban access to preferred bathrooms and locker rooms for trans children. When you are in the bathroom, you should only be focused on doing your business, washing your hands, and leaving. You should not be focused on what the person next to you is doing as it frankly is none of your business. So, to be blunt, who really cares if the person next to you has the same parts as you or not.
Many students are terrified of how these new bills will affect them. When bills such as these are passed, it makes transgender youth feel afraid for their safety and ultimately their lives. Not only does it make them question that but their own sense of self-worth. Hopefully, with time and new ways of thinking, the United States will improve.