Recipes on the red carpet
I've always been drawn to cooking. I made my first meal with my mom all the way back when I was seven. I remember thinking that the pancakes I made that day were the best I had ever eaten, even though I had enjoyed the same recipe hundreds of times before.
The feeling of knowing that I made the food my family was enjoying, along with getting to try whatever I wanted is what made me stick with this hobby even up to this day.
Now, many of the new recipes that I attempt come from TikTok. Half of my days are spent endlessly scrolling, which leads me to find a lot of new and unique foods to try. One of my favorite cooking trends is when people recreate celebrity recipes. Yet up until making this story, I had never attempted any of them before.
Gigi Hadid's Spicy Vodka Pasta
Gigi Hadid's pasta recipe has come across my "For You" Page the most out of all the recipes that I am making. It was the inspiration for my whole story. The tons of videos I have watched of people making this recipe made me eager to recreate it.
The ingredients I used were shell pasta, olive oil, a shallot, garlic, tomato paste, vodka, heavy cream, red pepper flakes, butter, parmesan cheese, and basil.
I doubled the recipe so that I could make enough for my entire family. I used a full box of pasta noodles, instead of the half box that the recipe originally called for. Even so, the entire thing still only cost me about $15 to make.
Along with that, the recipe was also very easy to follow. It took me about 20 minutes to cook everything, and none of the steps were complicated. The entire meal was cooked over medium heat and each step was as simple as adding an ingredient and stirring.
Overall, I enjoyed the pasta. I have always loved meals that include parmesan or garlic, and this recipe was no exception.
The only issue I had was that there were so many red pepper flakes that the other flavors did not come through as much as I wish they would have. While I enjoyed the spice the pepper provided, it still was not enough to sacrifice the distinctiveness of the other flavors.
Despite this, the pasta was delicious, and I would definitely make it again, just maybe with a few less red pepper flakes next time.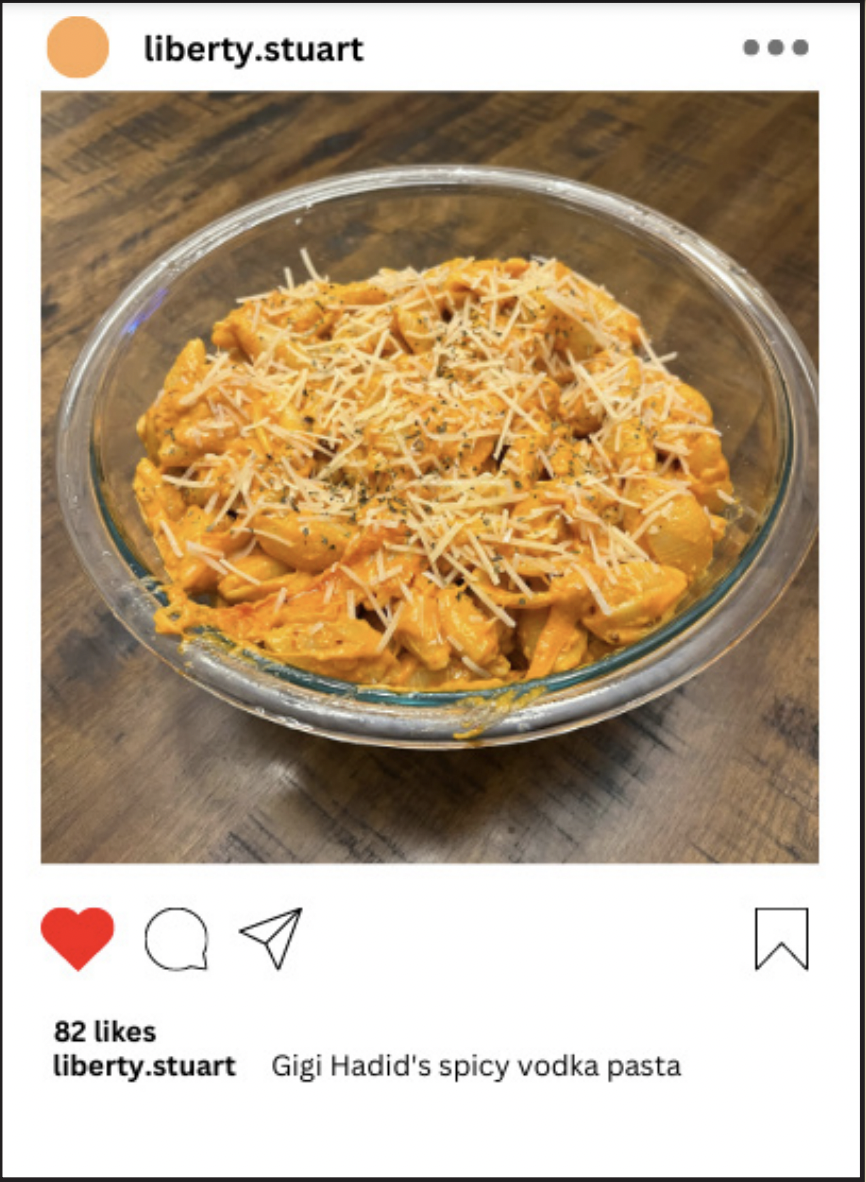 Kylie Jenner's Ramen
I have come across Kylie Jenner's ramen recipe countless times, and I am not the only one that has been seeing it everywhere. When my sister found out about my story, she immediately asked if I was recreating this recipe as well.
Jenner's ramen blew up for its simplicity since it only required an instant ramen packet and three extra ingredients. It was a must try for me, especially since I already had everything I needed in order to make it, a ramen packet, garlic, butter, and an egg.
The only problem was that I could not find an exact recipe. Every video I watched seemed to make it a slightly different way than the last, the biggest issue being whether or not I was supposed to drain the water. After a while, I decided there were slightly more videos that drained the water and followed that route.
The meal only took me about five minutes to make, and once it was done, I topped it with green onions to add some color.
This recipe was extremely disappointing. The flavor packet that comes with ramen is strong enough flavor as is, and the added garlic powder pushed it over the top.
The egg had the opposite effect, it added nothing. It was so outshone by the strong spices that if I were not the one who made the food, I would not even know it was a part of the meal.
I regret draining the water. While I do think it might have helped, I do not think its addition would have been enough to let me even begin to enjoy this meal.
Considering every video I saw was either people raving about how good this meal was or about how they used this recipe before Kylie Jenner made it famous, I was not expecting it to be this bad.
I would much rather stick with the ramen recipe that I typically use and would even recommend following the package instructions over using Kylie Jenner's recipe.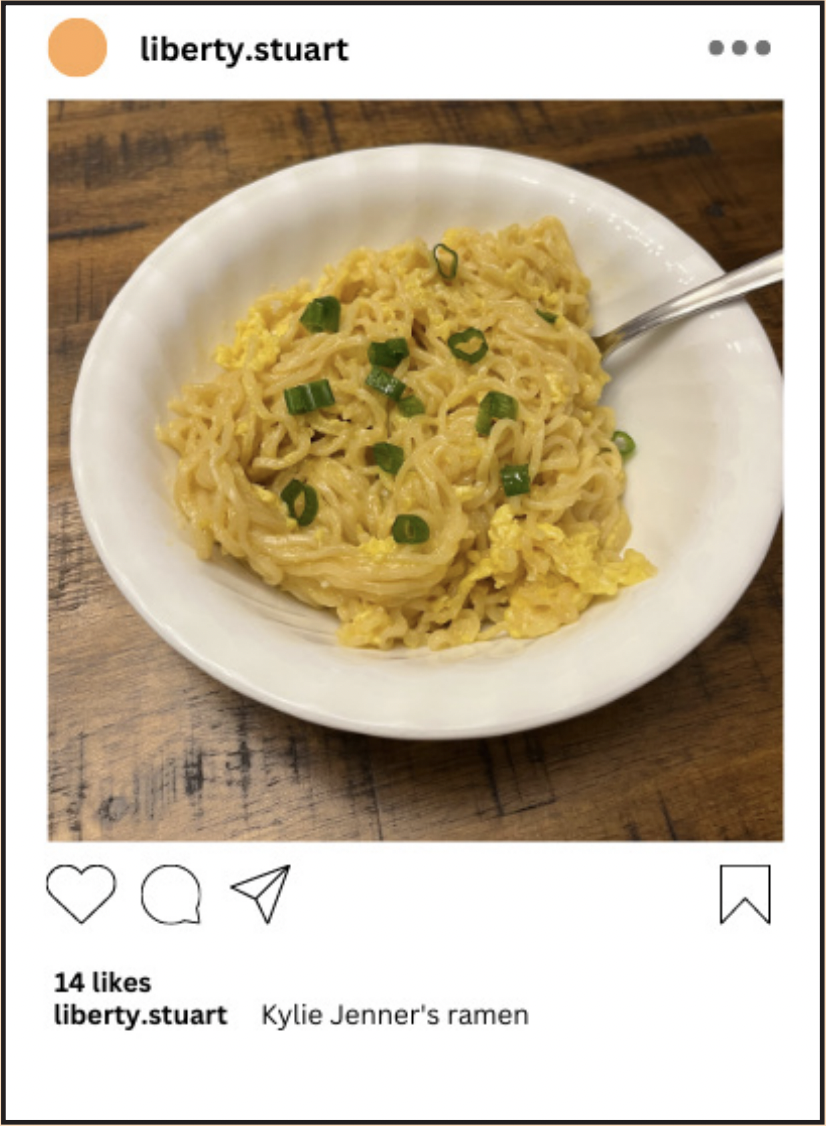 Gordon Ramsay's Chicken Noodles
After coming up with the idea to replicate celebrity recipes, I knew I had to find a recipe from Gordon Ramsay.
There is only one recipe that comes to my mind when I hear his name, Beef Wellington. Unfortunately, unlike Ramsay, I am not a three-star Michelin chef and do not feel confident enough in my skills to attempt this recipe.
So, I did the next best thing, I went to YouTube and searched "easy Gordon Ramsay recipes." I saw a ton of videos on his channel that looked more manageable for me, but the one that stuck out was his chicken noodle recipe.
After clicking on the video, I saw that it was a stir-fry recipe and that it only took five ingredients, chicken, garlic, broccoli, rice noodles, and eggs. My biggest concern was that it would still be too complicated for me since it was made by a much more experienced chef, but it was actually very straightforward.
The steps were very simple and the hardest part for me was cutting the chicken since I bought chicken breast tenderloins instead of the full breast that it called for. Once the prep was done, everything just got thrown into a wok. Overall, the recipe was extremely easygoing.
The best part was the flavor.
I was nervous that it would be bland since there were so few ingredients, but the meal was phenomenal. The chicken was extremely flavorful, and the rice noodles were the perfect balance to it. The broccoli further added to the meal. It had a crunch but didn't feel undercooked, and it absorbed the soy sauce perfectly.
Each aspect of the recipe shone through in its own way and there were no ingredients that felt overshadowed. My sister and I shared the food, since it fed two to three people, and the plate was wiped clean by the time we were done.
This was by far the best meal I made.