Homemade German dishes
German food has always been prominent in my household when it comes to family meals. My dad's side of the family is almost 100 percent German. German recipes focus heavily on bread, potatoes, and meat. These are some of my favorite things to eat with my family.
I decided to pick four recipes and recreate them. One of them is a dessert and is one of the favorites in Germany. The desert is called Schwarzwälder Kirschtorte which is translated to Black Forest cake.
The Black Forest is from 1934, but in 1949 it placed 13th on a list of the best-known German cakes. The dessert is not directly named after the black forest mountain range in southwestern Germany. Some sources claim that the name of the cake is inspired by the traditional costume of the women of the black forest region, with a characteristic hat with a big, red pompom on top.
The Black Forest cake was hard to make. I made it gluten-free because my dad and sister are gluten-free, and I wanted them to eat it. It was not good at all, the cake was good, but the filling turned out bad. It had a weird taste like it was tarty. The whipped cream was good, I only ate that off my piece of cake.
Making the cake was a struggle. There were only two layers, but it calls for three. This is because I made the cake with gluten-free flour which does not rise as much as it would when using all-purpose flour. A result of this was having too many overpowering fillings.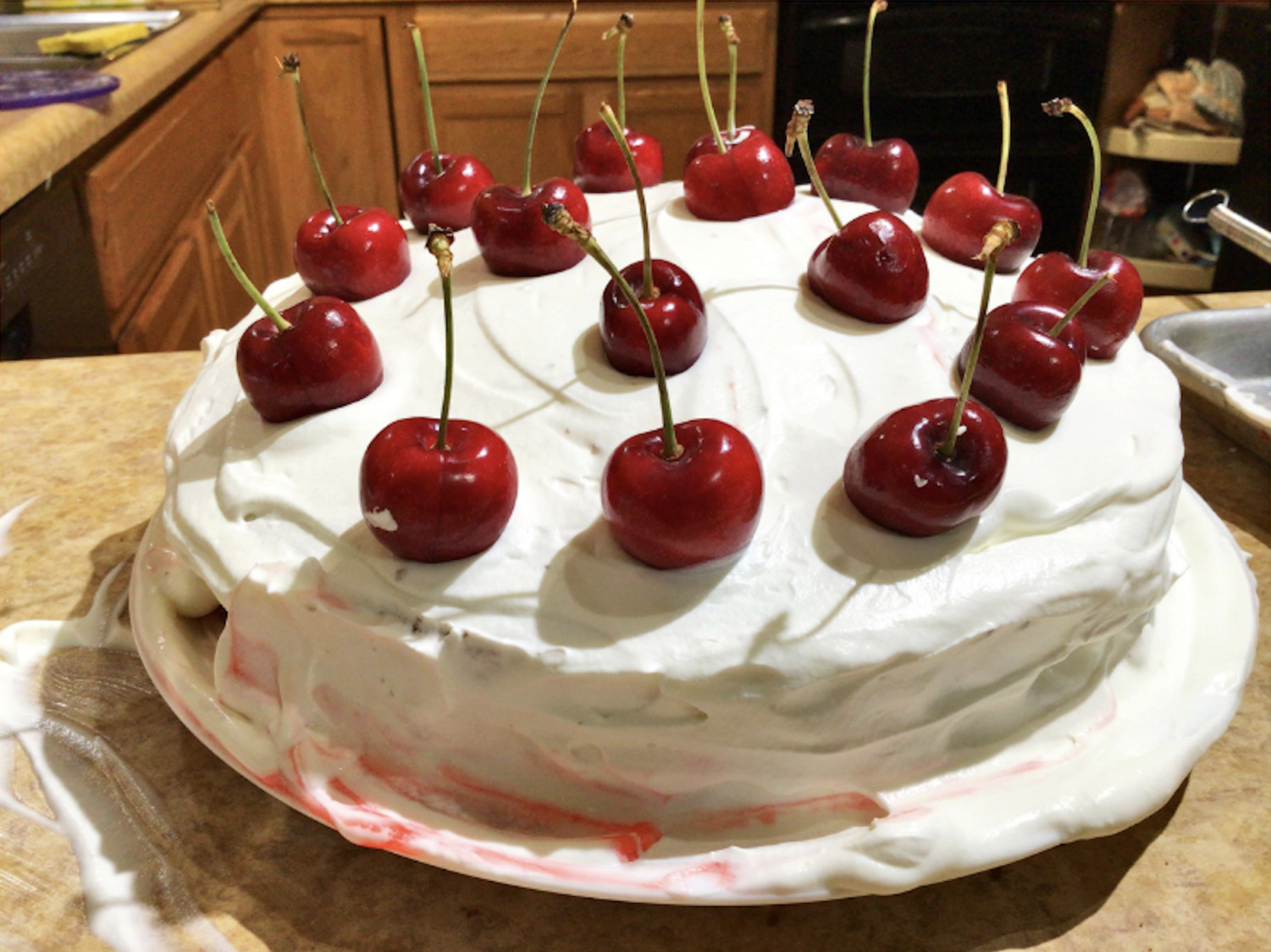 I then made two dishes; the first one is called Rinderrouade, which is like a beef roll.
The Rinderroulade, or the beef roll, has bacon, onions, mustard, and pickles. It is wrapped in thinly sliced beef for it to cook. It typically uses veal and sometimes pork as meat. It is usually served with either potato dumplings or mashed potatoes. I served it with potato dumplings, Kartoffelknodel.
Making the beef roll was fun and scary. I started by laying the thinly sliced beef on the baking sheet, then I spread the mustard on the beef and then added the chopped-up onions and chopped-up pickles. I moved on to add two or three slices of bacon to each, then added the pickle wedge and rolled it up, finally adding a toothpick to hold it all in place.
After all that you want to brown it off then put it in a roaster pan and put it in the oven, for about 60 to 90 minutes.
The beef roll had good feedback from my family. The most predominant feedback was that the pickle tied the whole thing together, it had good flavor. Another good thing is that it was not hard to make, it was fun rolling the meat, and I got the hang of it over time.
The second one is Kartoffelknodel which translates to potato dumpling.
My family liked the potato dumpling, I did not. Cooking it was hard. I think the water got too hot and the potato dumplings fell apart in the water. It had good flavor, but I was disappointed with how it turned out.
For my last dish, I was surprised to know that Germany is known for pretzels or, "Brezel." I made them from scratch.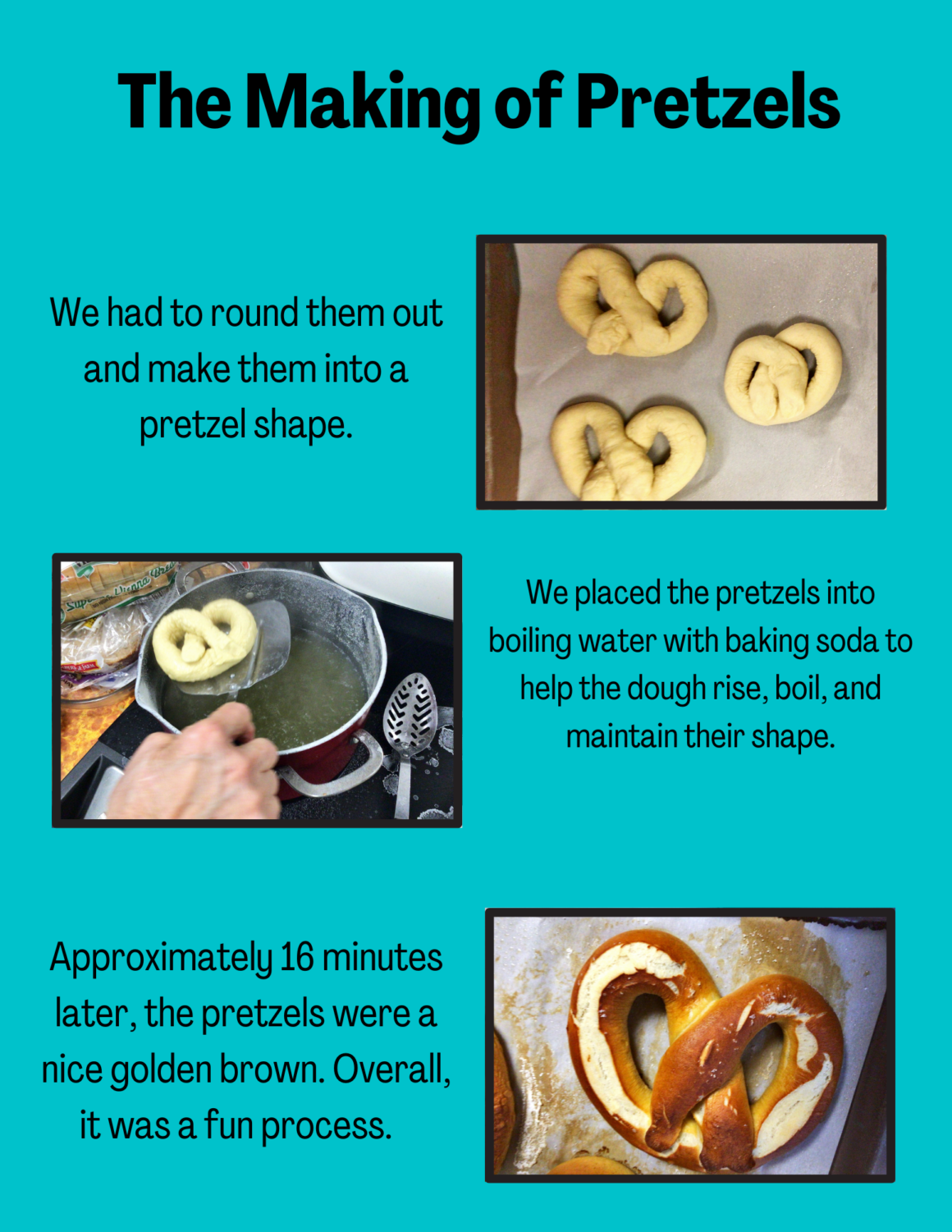 I was surprised at how good the pretzels came out taste-wise and shape-wise. Making the pretzels was so much fun, my grandma made them with me, and I had fun with her. I thought they would take hours when it actually took less than an hour.
We did have some problems making it, like when we were rounding the dough out to make the pretzel shape it was getting cold and making it harder to round. Because of this, bumps started to form on the pretzels.
Making all this, I would say about half I would make again: the beef rolls and pretzels. If you like to try something and are willing to try it, I recommend making the beef rolls, my whole family loved it.