Polish-ious foods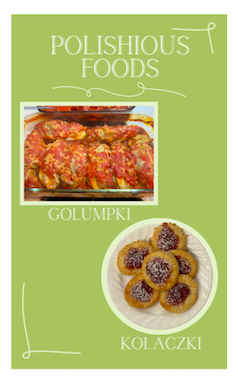 Growing up, I've always been surrounded by my family's Polish traditions. We refer to my grandparents using the Polish equivalents of grandma and grandpa, babcia and dziadek. On birthdays we even sing in Polish. My favorite thing about growing up in a Polish household has always been the food.
My babcia is a big reason for food being important to my family. She's always had a passion for cooking and was planning on opening a restaurant before she settled down with my grandpa. She even jokes that she has spent most of her life in the kitchen.
When I think of Polish foods that I have grown up on, the first thing that comes to mind are golumpki. Golumpki are made of boiled cabbage leaves wrapped around a mixture of ground beef, onions, and rice, coated in tomato sauce.
As a kid, I used to always take the cabbage off and just eat the meat mixture that was on the inside, but now I think the cabbage ties the flavor together. Golumpki is by far the Polish dish that I have eaten the most.
My babcia's cooking is not only admired by my family. In 1992, she had three of her cookie recipes posted in The Aegis, a newspaper published in Harford County, Maryland. The recipes she revealed were for chrusciki, kolaczki, and rosettes, a Scandinavian dessert.
The first recipe was chrusciki, Polish angel wings, which are a light and crispy cookie that are similar in texture to a flour tortilla chip. I relate them to a small funnel cake flavor-wise, as the dough is fried and covered in powdered sugar. In Poland, they are a carnival food.
Chrusciki are very time-consuming to make since the dough needs to be rolled very thinly, chilled, and then braided before frying. Due to how long they take, my family for the most part only makes them on holidays.
While this was never one of my favorite cookies, I always enjoy making them with my family. The long process leaves a lot of room for us to spend time together and make memories.
I remember getting splashed with oil when making chrusciki once as a kid, which sparked my fear of frying food that I still have to this day.
The second recipe that my babcia published was the kolaczki cookie, my personal favorite. Kolaczki are similar to a small fruit pie, they have a flaky dough, that is topped with jelly.
I love these cookies when they are warm, but they become much less enjoyable for me when they are cold.
Every time we make them, we use a variety of jellies to see what the new flavors will taste like. The last time we made kolaczki we used cherry, strawberry, and apricot flavors. Cherry has always been my favorite filling for the cookies, but apricot was one we had never used in the recipe before. While I did not enjoy it, it was fun to try and to see everyone's opinions on it.
I will always be grateful to my babcia that I have a variety of Polish recipes to cook. The joy of growing up with foods specific to my family is something that I cherish.