"Start of independence"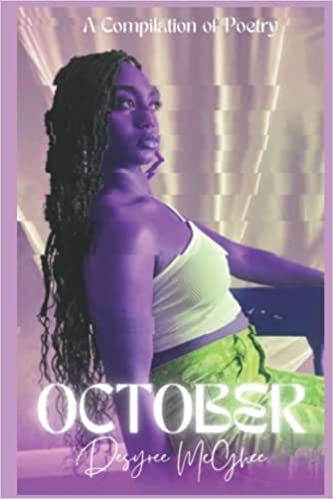 North alumni publishes poetry compilation
After holding onto the pain of a bad relationship and needing an escape, North High alumni, Desyree McGhee, self-published a poetry compilation.  
     "October," McGhee's book was released in October 2022. She chose to name the book "October" due to it being Domestic Violence Awareness Month, which is what most of her poems are about. 
     Domestic violence is the pattern of one person trying to control or dominate another person, according to Domesticviolence.org. 
     Before she was an author, McGhee graduated from Omaha North High School in 2020, making her a third-generation Viking graduate. She was involved in student council, dance team, principal advisory board, Black Student Leadership Council (BSLC). She was also the Senior Class Vice President.  
     She enjoyed her time at North because she was surrounded by many people of her skin color. Not having grown up around other Black students. She felt it gave her a chance to flourish and be herself. 
     "It built my confidence in a way," Mcghee said. 
     Being involved in BSLC since her freshman year, McGhee took on various leadership responsibilities and created connections with other individuals in the group. 
     She was very passionate when it came to her history and culture, so she used her art and dance skills to choreograph dances for the Black History Month program. 
      BSLC sponsor, John Jackson, was a teacher and mentor that McGhee looked up to during her time at North.  
      "She wasn't someone who was just into dance and the arts but also her academics," Jackson said. "She understood the importance of academics in moving the needle for her." 
     Jackson knew that McGhee had a story to tell, and because she was never afraid to try something new, he was not surprised that she wrote a book.  
     McGhee also looked up to other staff members at North like former teacher Mark Gudgel, former counselor Lajoy Green, and former principal Gene Haynes. 
     "I felt as if they all breathed life into certain aspects of my life," McGhee said.  
     McGhee came back to North during the 2022-23 school year to be a dance coach. She then left after the second home game of the year to Houston, Texas because she always had dreams of relocating.  
     She dreamt that she was smiling big, driving a droptop car with her hair blowing in downtown Houston.  
     McGhee's move became official when she decided she needed to relocate after her close friend, Vincent Burns died, and she fell into a deep depression. She was having trouble finding motivation. The dance team and her mom were the only things that could encourage her to leave the house.  
     "They were depending on me as their coach," McGhee said. "They gave me the motivation to want to wake up to see another day." 
     While McGhee was in high school, she began writing her poems to express her feelings during a time when she experienced an unhealthy relationship.  
     The poems focus on wanting, receiving, and running away from the love of the relationship she was in. 
     "[They] are filled with wanting to leave him, and longing to stay in hopes of changed behavior," McGhee said. 
     McGhee never planned to release the poems to anyone. She simply wanted to get thoughts out of her head.  
     Many of McGhee's friends and classmates would stumble across her poems on pieces of paper or homework, and they would encourage her to continue writing.
     While in college she began wanting to share her poems with friends, sometimes in the middle of conversations.
     "No one would be saying anything, and I would be like 'Y'all wanna hear a poem I wrote,'" Mcghee said.
     McGhee's friends were used to her being private, distant, and not always wanting to share. So, when they read her poems, they would sometimes cry and explain how proud they were.
     McGhee decided to publish her book because she was ready to release the pain that went along with the poems.
     "I no longer wanted to hang on to them," McGhee said. "I thought no better way to dispose of them than by putting them all together in a book."
     Now that McGhee is published, her main goal is to reach out to teenage
girls who are just starting to explore relationships. She also hopes to help and extend a hand to others who have gone through her same pain.
     To begin the publishing process, McGhee made a Facebook post asking for advice. A therapist named Leontyne Evans reached out.
     Evans offered to help McGhee for zero cost because she was impressed by how she approached her, and how she was not asking for handouts.
     McGhee then began meeting with Evans and editing her story. Evans created her cover photo and helped her through the process of self-publishing.
     "My desire to [understand] how the [publishing] process worked led me to work with the most amazing women," McGhee said.
     Evans could see that McGhee was willing to do what she needed to be published and was impressed by her ambition.
     "She was clear that she already did the work and was willing to do whatever she needed to get her book published," Evans said.
     Editing her story was the hardest part for McGhee. Within the two months it took her to publish the book McGhee felt as if she was reliving the same pain from when she originally wrote the poems.
     Some poems took McGhee two weeks to edit because she did not want to keep reliving the suffering she felt then.
     "My heart still felt that same heartache that often made me cry while editing," McGhee said.
     Her favorite poem is "Relapse" because it made a significant impact on her. She compares the poem to a game of tug a war because of the feeling of leaving and going.
     "[It's] like being done and just getting back started," McGhee said. "But at the end I give myself praise for walking away."
     McGhee feels her stories reflect the way she always wears her heart on her sleeve. She realizes that she is a different person now and through her experience learned to never let anyone play with her mind, feelings and safety again.
     McGhee is now selling her book on Amazon and has even attended many craft fairs and events to give her book recognition. She plans to continue writing, and publish another book or journal, as well as participate in a poetry slam.