Omaha North faculty, students cuddle up to class pets
Hands come reaching down into the pet's home. At first, they are startled, until the comforting hands reach around the pets giving them a sense of safety. They now know that no harm is being done to them. They only feel love.
Natalie Runyon is a digital media teacher at North. She is also the new yearbook adviser, as well as a sponsor for robotics and SkillsUSA. She has two guinea pigs in her classroom.
Runyon gained two guinea pigs after a teacher at King Science middle school was giving her pigs away in 2018. The seniors in Runyon's class at the time convinced her to take them in.
Runyon believes the furry friends in her classroom have a positive impact on the students and play a role in encouraging the students to come to class.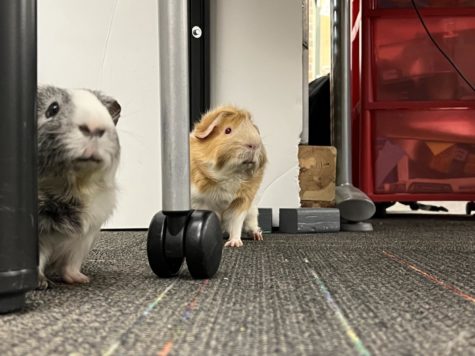 "I realized once I got them into the classroom, how therapeutic they were for people that were really just stressed out, or having a hard time staying focused," Runyon said.
Runyon has a grey guinea pig with white spots named Charlie who has been there for four years. She also has another guinea pig named Fred who is light brown with white spots and has only been there for two years.
Elizabeth Jefferson, 12, is one of Runyon's students who enjoys tending to and being around the guinea pigs. She takes breaks from her work to give the pigs snacks and food such as sliced apples and hay.
"I'm an animal lover, so kind of just having them around [is nice.] If I want to take a break I can just take them out and kind of just chill with them, and that's always nice," Jefferson said.
Runyon is a busy person, juggling teaching, extracurricular activities, home life and her guinea pigs. She calls them an "adorable, soft, and fun," stress reliever. She enjoys their company.
Although having class pets may be fun for these teachers, there are also some struggles that come along with it.
"I basically do the feeding and the cleaning just to make sure that it's done the way I want it to be done and as often," Runyon said. "And I want to make sure that the pigs are eating the right diet to keep them healthy."
Runyon believes that the hardest part about having class pets is keeping their cage clean and tidying up after them. If she could have any other pet in her classroom, she would want to bring her dog, Darwin.
Along with the guinea pigs, North High also houses turtles. Donell Evans is a biology and environmental science teacher at Omaha North.
There have been turtles in Evans' classroom for about a year now. They were rescue turtles from an animal shelter that had no room for them.
In the middle of the school year, Evans' classroom had three red slider turtles named Oregano, Milo, and Michelangelo. Over the past summer, one of the turtles managed to escape, leaving only two left in the class.
Evans also believes, as well as Runyon, that classroom pets have a positive outlook on the learning environment of her classroom and the attendance of the students.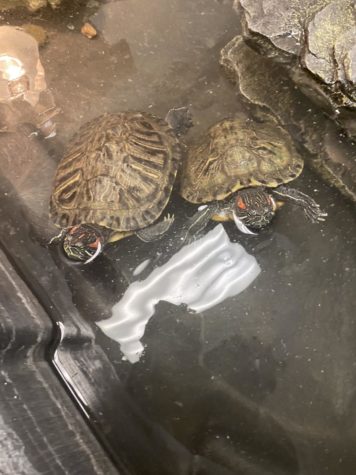 "I have a student who won't do anything at all in class, she won't smile, she won't talk, she won't do anything; but when she goes back and looks at the turtles or takes care of the turtles, then all of a sudden she starts smiling," Evans said.
Evans allows the students to hold the class pets as well as take pictures with them. She feels the students seem to really enjoy having the turtles in the room.
There are students who come in Evans' class to help her feed the turtles and care for them when she is busy.
Evans believes the most challenging part about having class pets is making sure that they're being tended to and treated correctly.
"I don't want to see them mistreated," Evans said. "Meeting their needs is difficult and making sure that they're properly taken care of [too]."
She describes her turtles as "very fun with much character." Evans incorporates the turtles into class lessons to make activities more intriguing for her students.
Classroom pets are not only fun to have around, but they also help students engage with learning.