The road to recovery
Colleen Durante's process in recovering from a biking accident
The memories are hazy, remembrance only coming in small blips. One moment she is on her bike and the next she is lying on the ground, a woman holding her hand telling her not to move. Her memory remains inconsistent until arriving at the hospital.
On September 16, 2022, history teacher Colleen Durante was in a biking accident. She collided with a car while riding south on Saddlecreek at the Leavenworth intersection. The car involved in the accident was headed north on Saddlecreek and turning left to head west onto Leavenworth.
Durante was not expecting a car to swerve into her lane. She was focused on an upcoming turn she had to make. She was looking ahead to see if she could transfer into the left lane, and she was also trying to gauge how much traffic she was biking toward.
By the time Durante recognized what was happening, there was little that could be done.
"You know life flashed in front of your eyes, right, that whole thing. Actually, I didn't see to the past, I thought of the future, like oh god I'm going to be in a wheelchair, oh god I'm going to die," said Durante.
Durante has no recollection of the actual collision. The next thing she can recall is lying on the pavement while a bystander held her hand. Durante remembers asking her to call her mother but not much else.
Durante's mother showed up to the scene right before she was transported to the hospital by ambulance. Her mother followed her to the hospital but was not allowed back into the trauma room for several hours.
While waiting, her mother called Durante's husband to inform him of what happened. He was in the middle of the school day at Westside Middle School but immediately left upon hearing the news.
"He never answers his phone, so I was surprised that he did," said Durante. "He just walked out and told somebody, 'Hey, yeah go watch my kids.' He drove by my bicycle on the way to the hospital. He saw it in the street."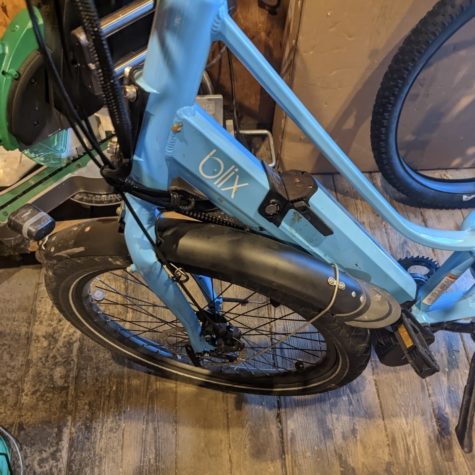 Upon arriving at the hospital, Durante was stripped of clothes and put into a fresh neck collar. A computerized axial tomography (CAT) scan was performed on her head, back and torso. No injuries were found. She did, however, break her upper mandible, which is a bone residing above the top row of teeth. Durante also suffered a concussion, damage to three of her teeth, and a gash on her leg that left her shin bone exposed.
Doctors feared exposure may have impacted the knee joint, so they did another CAT scan to determine whether surgery would have to be conducted in order to clean the area. The CAT scan determined that the procedure was not necessary.
Upon being discharged from the hospital, Durante took three weeks off from school to recover from her concussion. She had a hard time walking due to her head trauma, so she underwent physical therapy.
Durante was also on medication that made her a fall hazard, meaning that she had an increased risk of losing balance or bodily support. This made it necessary for her to always have a caretaker.
Durante's family united forces to help take care of her. Durante's husband took time off work to offer care and support. Her mother would also pick her up and take her back to her house so that there was always a second pair of eyes watching her. Durante's sister even flew in from Texas to lend a helping hand.
Even while recovering, part of Durante's focus remained on school. "Having a job like this where you still have to worry about what's going on at your job, when you're not at your job, when you're supposed to be on medical leave is insane. No other job do you have to do that…Both my husband, who is a teacher, and my parents were like you shouldn't be lesson planning. I'm like 'Than who's going to do it? Who's going to do it? Nobody,'" said Durante.
While the balance between work and rest was a bit blurred, Durante's school family was still there to help her. Resource teacher Teresa Morrison organized a Meal Train for the Durante family. According to Meal Train, it is a service that "simplifies the organization of meal giving around significant life events."
Meal Train ensured that dietary restrictions and preferences were met.
"My three-year-old is dairy free, there were quite a few people who made dairy-free food so [she] could eat the same thing we were eating," said Durante.
North's staff also showed tremendous encouragement when Durante returned to the classroom.
"It was so much love… the first day I was back, everybody was just so amazing and supportive," stated Durante.
Durante's cycling habits and her work routine are heavily intertwined. She has used her bike as a means of transportation since college when she worked at the YMCA.
When riding consistently, Durante typically rides her bike to school three or four days a week. She rides her bike until the temperature dips below 20 degrees Fahrenheit. Both factors result in her biking to work for half the school year.
Durante is also sure to take safety precautions in order to keep herself safe. She rides with a helmet, lights and flashers and often reflective clothing.
However, Durante's bike was left unusable after the accident. She has another bike, but it is not as convenient as the former one. The damaged bike was equipped with a motor, basket, and a cargo area that housed an extra bike seat so her children could ride along with her.
"I plan on getting another bike, it's going to take a while for me to decide what I want, what's going to be functional for my family, for getting to school… Maybe in the spring I'll have a bike by then and I can start riding back and forth to school," said Durante.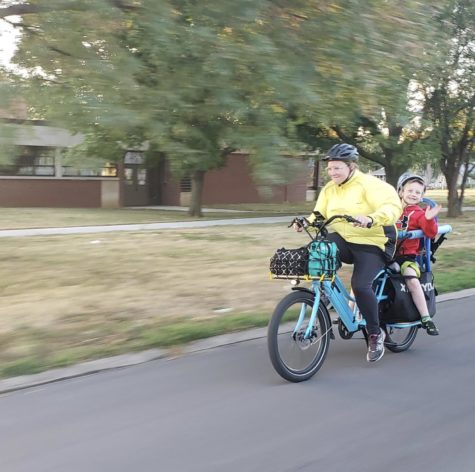 Despite her plans of getting a new bike, some people in her life are not fond of the plans to keep riding, especially since this is not the first time being hit while on her bike. In 2009 she was struck while riding on the sidewalk by a car that was coming out of an alleyway.
"I've had people say, 'You should've learned the first time,' cause there are always people who are pessimistic… That's been hard to have people who [have a] negative connotation of it," said Durante.
Although Durante plans to continue riding, she has faced her fair share of struggles while biking. She often rides in regular lanes of traffic because there are no bike lanes available. Passing cars have also not allotted her the proper amount of room when advancing by.
"Omaha's not a very bike-friendly town," stated Durante.
Durante has also dealt with assumptions made by motorists regarding proper biking etiquette.
Many think that bicyclists should ride on the sidewalk. In reality, riding on sidewalks makes bicyclists more prone to accidents. When bicyclists ride on the sidewalk it is harder for cars to see them when trying to turn.
Another misconception is the belief that cyclists should ride as close to the shoulder of the road as possible. If cyclists did ride close to the shoulder, cyclists would increase their chances of losing their balance seeing as though streets are humped, and it would be much more likely for a storm drain to catch their bike tire.
These misconceptions, along with riding on the "atrociously underdeveloped," bike trails and lanes of Omaha have left Durante a bit frustrated.
"A lot of the bike lanes don't really go anywhere, or they'll just end randomly," said Durante.
Durante hopes that the city of Omaha will install more bike lanes on their roads, specifically protected ones. Protected bike lanes are guarded by short posts used to divert traffic away from an area called bollards.
"They give a private space to cyclists, so you're not in with the cars," stated Durante.
Despite Omaha's need to prioritize bike safety and the challenges Durante has endured while biking, it is a passion she will continue to pursue. She hopes the benefits of biking will encourage other people to start riding.
"Bikes are so good because they take cars off the road, bikes do very little damage to the roads themselves, [it's] good exercise, it's fun, I like it, everyone should bike," said Durante.