Billie Eilish Releases Her Documentary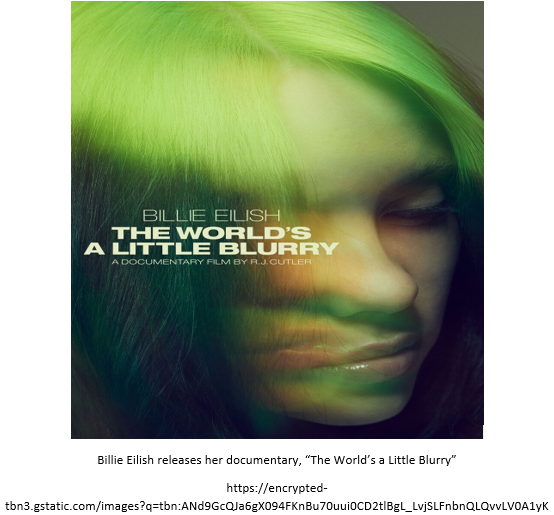 Billie Eilish's, "The World's a Little Blurry" documentary released on February 26 onto Apple TV's platform after Eilish posted information to her Instagram one month before. 
"1 month. #TheWorldsALittleBlurry." Eilish captioned on her Instagram. 
The documentary opens with Eilish singing her first song, "Ocean Eyes". The song was recorded when she was just 13 years old. The song plays in the background as clips are being shown of her dancing and singing to it. It takes viewers through some of Eilish's most important moments from years 13 to 19 years old.  
The clips were usually shot with close-ups, giving a personal feeling for the watcher, which was the main affect of this entire film. Eilish shows some of her most vulnerable moments, which gives off an immensely emotional feeling that ties along with her messages in her music.  
Eilish explains in an interview that she makes her music from her own experiences and trauma, such as depression and sleep paralysis. In an interview in the documentary, she says that she talks about this in her music because nobody else does.  
In 2020, at 18 years old, Eilish won 5 Grammys including best new artist of the year. Soon after, she received a tremendous amount of hate from the public. 
"How the —- did Billie Garnish sweep the awards????" @tomatomatis tweeted. They continue, "The music was great because of the engineering! NOT THE LYRICS NOT THE VOICE NOT THE MESSAGE." 
Some people, however, came to her defense. 
"SHE DESERVED TO WIN, Y'ALL ARE JUST NASTY." @GOLDENLOUVRE tweeted. 
Because there are clips of her concerts, there are a few flashing lights and photosensitive parts, but there is a warning before the production starts. For the most part, the lighting is very dim, the camera movements are calm, and is pleasing to watch. 
Since Apple TV isn't free, it isn't as accessible for everyone to watch, but Apple TV allows a free trial. The quality experience received from watching this documentary is well-worth the use of the free trial.