A buzzing passion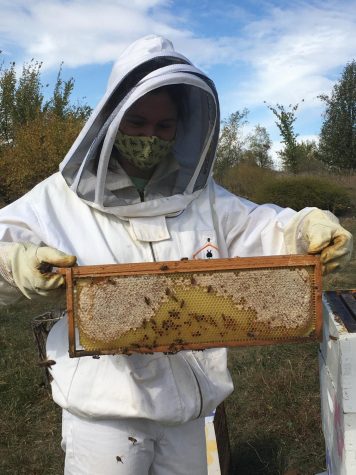 Lauren Sitzman, 11, distinctly remembers the family trip she took to Arizona while in Kindergarten. While hiking up a mountain with her family, she absentmindedly put her hand down and felt herself being stung. Being a mere six years old, she was instantly curious.
What had just stung her? What kind of creatures had the ability to sting people? Little did Sitzman know that these newly found questions would lead to a passion for bees.
When in seventh grade, Sitzman was awarded the "Nebraska Youth Beekeeping Scholarship" from the Nebraska Beekeeping Association. The Nebraska Beekeeping Association consists of a group of people from all over Nebraska who are dedicated to protecting honeybees.
The Nebraska Beekeeping Association provided Sitzman with her first hive, beekeeping classes, a beekeeper mentor, and even connections with the Omaha Bee Club. Having connections to the Omaha Bee Club allowed Sitzman to reach out to beekeepers in the metro area for advice.
After successfully maintaining her first hive Sitzman decided to start saving up for a second one. To help with the costs, Sitzman started handing out honey to her family and friends in exchange for a small donation that would go back to her new hive.
Her dad suggested putting labels on the honey that she was now distributing to her peers. This left Lauren with the task of coming up with a logo for her honey, and of course a name.
She created her logo in PowerPoint by using free clip art and drew inspiration from her favorite accessories when coming up with the name for her honey.
"I decided on Bees and Bows because every day of school, if you knew me in middle school, I wore a big bow in my hair, and I sometimes still do," said Sitzman.
Sitzman also really liked that the name of her honey sounded a bit girly. Seeing that majority of bees in a colony are females she thought it was a good fit.
At one point in time Sitzman considered changing the name of her honey to something a bit more mature. However, when mentioning the idea to one of her family members they told her just how much the name Bees and Bows meant to them.
Seeing that beekeeping is often portrayed as a male dominant field, Sitzman's relative thought that the name Bees and Bows was a great way to help recognize the women who also play a part in beekeeping.
"It was a really important mix of femininity, and bees, and just kind of female empowerment," said Sitzman.
After saving up Sitzman was able to purchase her second hive this past spring. Each one of her hives has an average of about 30,000 bees that live within it. Sitzman took it upon herself to name each and every one of her bees, all their names starting with the letter "B".
"I have 60,000 little friends!" claimed Sitzman
City regulations don't allow Sitzman to keep her hives at her house, so they are located at a cemetery near her home. Sitzman visits her hives every two to three weeks in order to go through a routinely checkup.
To start off, Sitzman gets her smoker ready by inserting pine needles and dryer lint and setting fire to the substance. The smoker's main purpose is to calm the bees down as well as move them out of the way. She starts by smoking the entrance of her hive and then lifts the lid of the hive off in order to smoke the first layer.
After smoking the first box, she uses a hive tool, which is essentially just a long piece of flat metal, to leverage up the frames of the hive. She looks at individual frames to examine how many bees are in each level and of course the honeycomb that is produced.
Sitzman continues down the boxes using this procedure until reaching the brood box. The brood box is where the baby bees and queen bee live.
Sitzman is sure to check if there is a good balance between male and female bees in the brood box to ensure that there are enough workers. She will also occasionally check on the queen bee to make sure that she's in good conditions.
After she completes her examination Sitzman stacks the boxes back up into their original order and makes sure that everything is put away correctly.
Honey is collected from the hives once a year and Sitzman usually has a bountiful harvest. Her first-year hive ended up producing around 100 pounds of honey, which is a lot of honey for a first-year colony.
Then this past summer Sitzman launched a Bees and Bows website. With the help of her website Sitzman hopes to keep educating others about the importance of bees.
The website gives good advice on how people in the Nebraska area can help not only honeybees but native bees as well. One of the most impactful things that people can do to help is simply keep bees in mind while gardening. Planting native state flowers is a great way to help pollinators, limiting pesticide use also helps immensely.
Sitzman's website not only educates others about bees, but it also gives them a chance to personally donate to her own hives. When a donation is made Sitzman is sure to give the patron some sort of honey product.
Jarred honey, hand scrubs, lip balms, and lotion bars are all products available to the people who donate. All products are made from the honey collected from Sitzman's hives.
Sitzman finds great joy in handing out honey. She also sometimes has a surreal feeling when seeing her products in the homes of her family and friends.
"It's so weird," claimed Sitzman, "it's just like oh, that exists in your house all the time."
Seeing her friends and family enjoying her hobby makes Sitzman want to continue her beekeeping journey. She has goals to teach more people about bees and save up for a third hive.