Bailey and BSLC plan special event for Valentine's Day
Johnna Bailey, sophomore at Omaha North, is an active member in the Black Student Leadership Council.
With the 2018-2019 school year being her first year at Omaha North and involved in BSLC, she has been involved with fundraising, attending weekly meetings and the Black History Month Program.
This past February, she came up with the idea for students to be able to purchase Valentine's Day baskets for other students in the building, and to have them delivered on Valentine's Day by BSLC members.
Options for purchasing Valentine's Day baskets ranged from sizes extra small to large, with prices being from $1 to $12.
The baskets ranged from containing candy, a bear, and colored print photos of the giver and the receiver of the basket.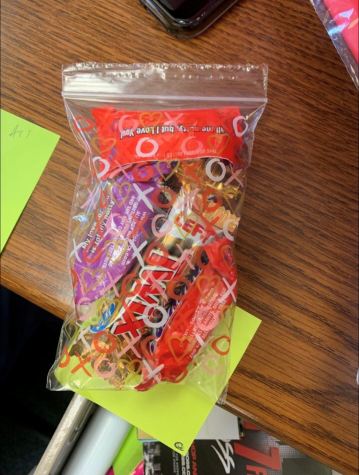 The idea came from Bailey's old friends from her hometown, Tuscaloosa, Alabama.
"I saw it on Snapchat and thought it would be a really great idea for this year," Bailey said.
She presented her idea at a BSLC meeting and everyone agreed with her and thought it would be a successful turnout.
"We thought it would be a great idea to do it, so we said let's do it," Bailey said.
Feedback Bailey received from delivering baskets on Valentine's Day from students were that "a lot of people liked it," Bailey said.
When the baskets were delivered, members of the BSLC handed out the baskets and sang songs that embodied the spirit of Valentine's Day.
"Everyone who was on the team helped and pitched in, in assuring that the event went through smoothly," Bailey said.
While being a part of BSLC, Bailey hopes to learn more and connect with other Black people who share the same ambitions as her.
Bailey began to gain leadership skills when she became president of Student Council at her middle school.
Bailey assembled a banquet for the eighth graders in Student Council, where there was a $500 profit.
"It was so great, and I achieved my goals," Bailey said.
What Bailey enjoys most about being a leader is the organization of event planning, as she plans to continue within BSLC and work in business post-baccalaureate.
"I think what I like to do is order people around, it's fun when you have those people that don't know what to do and you can help them," Bailey said.