Crawford plans to follow dreams, build rock-climbing gym
As the 2018-2019 school year is almost over, many seniors have decided on their next stop for the future. Noah Crawford, 12, is a student at Omaha North who, instead of going to college right away after high school, aspires to open his own rock-climbing gym.
Crawford described getting into rock climbing as a "big coincidence" as his original intention was targeted towards building a small obstacle course – like the ones in the show Ninja Warrior – inside his house for his birthday.
As Crawford started to do more research, he noticed that most competitors on the show were rock climbers.
He started to rock climb in August of 2015, but prior to rock climbing, he started working out because he was diagnosed with type one diabetes in July of the same year.
"I figured I should probably workout and take care of myself if I'm going to be getting things like diabetes," Crawford said.
When Crawford first started to rock climb, he did not know what to expect of it. He described it as throwing himself on the wall and going from there.
Crawford's best performances occur when he "blacks out." Meaning once he gets on the wall, he will not notice that he is done with a course until he is at the top and looks down to evaluate the structure of the rock wall.
"I really enjoy climbing as I'm on the wall…there is even moments where I'm like 'I feel cool,'" Crawford said.
Eventually, Crawford grew a passion for rock climbing and not only wanted rock climbing as a career but wanted to help other people improve themselves through physical activities.
"Why do everything well when you can specialize well in one thing?" Crawford said.
To kickstart his business, Crawford has been doing research online on revenues, considering the risks of starting a business, and how he could pitch his business ideas to investors so they would invest money into his business and to build his business plans.
While this requires much strategic planning, Crawford decided not to go to a four year college to acquire a bachelor's in business. He earned a perfect score of 36 on the ACT, so when he decided not to go to college, it shocked many people.
Crawford mentioned how he could possibly get a full ride scholarship to college with a perfect ACT score, but it still would not be free as he would have to dedicate four or more years of his life to acquire business skills in college.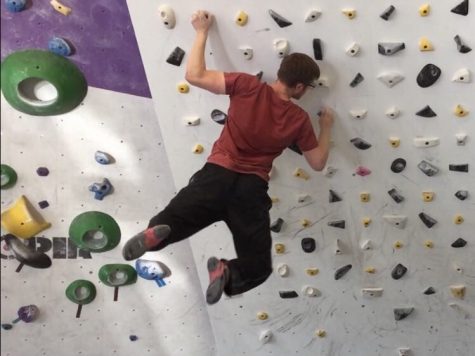 Eventually, Crawford had to discuss his plans with his parents. He was nervous as he wanted his parents to accept his goals and be supportive of him. Crawford told his parents early on his junior year.
At first, they were upset but through time, Crawford's parents have become more supportive and do not hinder his future goals. They even evaluate his research and business plans if needed.
Crawford described starting a business as "risky" because it is investing time and money into something he wants to do for the rest of his life.
He wants to build his gym in Salt Lake City, UT which is a popular rock-climbing city and has many competitors that Crawford must compete with to see who has the best gym.
"You put all your eggs in the basket. If the gym fails, that's it," Crawford said.
Despite the concerns, Crawford's passion for rock climbing goes above and beyond as he often pictures himself twenty years from now with a successful business and him being happy, doing what he loves, and that is what keeps him motivated.
"I can't imagine myself doing anything else. If I didn't do it, I would try to find something else, but I surely wouldn't be as happy as if I would open a climbing gym. That's the only thing I can see myself doing forever. Loving it from start to finish," Crawford said.