Cattle, concessions, and games, oh my!
Annual Nebraska State Fair does not disappoint
State fairs are probably one of my favorite things, given their two main components:funky fried foods, and friendly farm animals.  Over the past couple years, I have been to countless county and state fairs and each year I look forward to going to the Nebraska State Fair in Grand Island the most.   
The State fair's atmosphere is more iconic than the individual pieces that make it up.  Thousands of people lined the dirt paths as children screamed and jumped in the ocean-like rain puddles.  I heard more screaming little children and fighting parents than I've ever seen in any toy store.   
The Fair consists of a large building split up by animal (sheep, cow, pig, bunny, chicken, and a birthing pavilion) and there are buildings that house the 4H member's projects.  Large animal stalls are placed throughout the barns, while their owners stand over them and watch.  I'm pretty sure you can guess what those buildings smelled like, but they were worth going in to because of the few animal oddities.  There was one cow that was 3,600 pounds, and the average cow weighs about 1,500 pounds.  That'll make a lot of hamburger in the future. 
One of the best parts of the entire day was the birthing pavilion.  Animals who had just given birth or were close to going into labor were in the room.  The one downside to the pavilion was how packed it was, but that is probably because it is the only barn that actually had air conditioning.  There was a mother pig who had given birth to ten piglets the day before.  My heart swelled from the cuteness overload. 
The fair isn't just animals, there are also generic – Ferris heel, bumper cars, and the tilt-a-whirl.  The games on the other hand were totally rigged.  The prices for each game were ridiculous. The balloon pop game cost five dollars for ONE dart.  That is a rip-off because you must pop three balloons to get a large prize, meaning it would cost you $15 for a stuffed animal.  Even though they were overpriced, I still played the water game, where you squirt the little button and race to the top.  I ended up winning a fluffy moose and it didn't even have enough stuffing in the neck.  His head doesn't even stand up by itself, but it's okay I'm not mad. 
Food was probably one of the categories I was looking forward to the most and I was horribly disappointed.  There were over twenty different food places that all offered similar items.  Fried food is very popular, and they had everything from fried Oreos to fried eggs on a stick.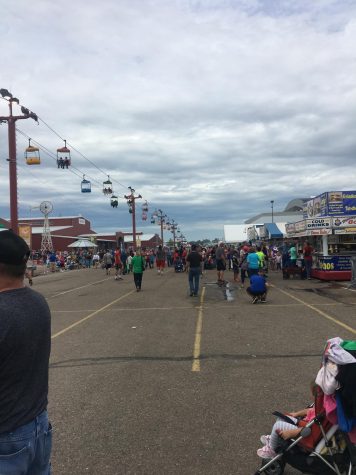 I decided to go with the mac 'n cheese that had buffalo chicken in it.  First off, I paid $12 for it which isn't horrible but for the quality of the food, it wasn't great.  The sketchy cook handed me a paper plate with dried out Mac 'n Cheese, and ONLY four pieces of buffalo chicken, which looked like Pizza Hut's boneless wings.  I took a few bites, and it was so dry!  The buffalo chicken though was good, it was moist and had a sensational flavor.  I ended up just eating the four pieces of chicken and chucked the Mac 'n Cheese.   
After the disappointing mac 'n cheese, I set out on another food journey.  I ordered nachos that had shredded chicken.  When I got the paper bowl with the food, I was underwhelmed by the contents of the nachos.  It only had chicken with no seasoning and cheese.  I ate a couple chips and it tasted pretty good.  Was it the best batch of nachos I've ever had? No, but it was way better than the mac n cheese that would cause me to choke if I kept eating it.  I finished out the nachos and did not die of hunger for the rest of the day. 
The Exhibition Hall housed hundreds of commercial booths filled with items they were trying to sell you.  I don't think I have heard "Ma'am let me show you this" or "Ma'am sit down and try this out".  I always enjoy going here because you find different items that are interesting, and many places give away free items.  Throughout the entire rows of stores, I ended up buying a shirt that was made locally.  The workers were all extremely helpful. 
The entire work force of the State Fair is volunteer based. Many of the people who help are in their older age.  Each person was sweet and were very helpful with every question that was needed.  The only people that are payed are the carnival staff, who work the food and game booths. 
Next year I'll definitely go back.  Except, I'll remember to eat before, so I don't waste fifty dollars on trash.