Omaha's Smoothie Truck offers healthy on-the-go options
Eating healthy is usually associated with gross, green juices, salads, and just plain and boring meals, but Omaha's Smoothie Truck has tons of delicious and nutritious options on-the-go options. The truck inside is equipped with tons of fresh fruits and vegetables.  
The truck was created by owner, Bruce Christensen. He worked in construction for years and noticed a lack in quick, healthy options. He wanted to give an opportunity for everyone to have the options to eat healthy. Christensen spent two years building the truck, spending 4-5 hours on it every day after work. The truck is typically located in Papillion at Tara Plaza, near 84th Street and East Centennial Road in the parking lot of Saint Vincent de Paul Thrift Shop.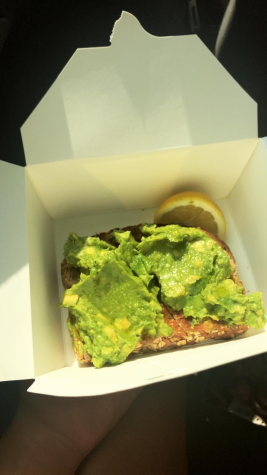 The truck has an array of menu items including smoothies, açaí bowls, and avocado toast. Prices range from $5.50- $8.50. The truck also offers "power ups" for added protein and nutrition including: spirulina, maca, chia seeds, cacao nibs, goji berries, and peanut butter. All smoothies are made with organic ingredients and sweetened with raw, local honey. There are three different types of açaí bowls, five different types of smoothies, and three different types of avocado toast.  
I went to the smoothie truck and tried the sweet green smoothie and the O.G. avocado toast. The sweet, green smoothie was very creamy! The smoothie was the perfect consistency, not too thick, and not too thin. The sweet green smoothie is made with only kale, spinach, mango, pineapple, banana, and organic almond milk. I loved how all their smoothies were made with almond milk instead of regular milk, because I am lactose-intolerant. Most smoothie venue smoothies are made with regular milk, and don't have this option. The smoothie tasted very refreshing and satisfying.  
The avocado toast was on delicious, warm, and toasted whole grain bread with fresh ripe avocado on top. The toast had a very bright, vibrant green color. I decided to only get the O.G avocado toast, but at The Smoothie Truck, they have very creative avocado toasts like the Mexi and the Greek toast. On top of the O.G avocado was sea salt, evoo, and a lemon wedge on the side. This toast was very well-prepared. Something so simple was so heavenly. The lemon and the sea salt brought out all the flavors of the avocado making it taste so savory. 
I highly recommend coming to this food truck, because despite the drive, the food and the smoothies are worth it. The smoothie overall was very sweet and delectable. The taste of the food overall taste and looks very enticing. Overall, I enjoyed the food even more because I knew I was doing good things for my body.