North Drama Club begins early stages of fall play
Before a play or musical's opening night, there's a lot that goes on behind the scenes in drama. Michael Brown, Drama, Stagecraft, and Debate teacher, is no stranger to the amount of work and dedication that happens off and on the stage, overseeing seven plays and musicals at North over his four years.
Auditions for North's latest musical, You're a Good Man, Charlie Brown, began on September 4. Students from all grades presented music and monologues to Brown, choir director, David Purdham, and the accompanist, Laurel Mac in hopes of getting onto the chorus or one of the six primary roles.
Callbacks were on September 7, with Blake Heuertz getting the role of Charlie Brown. Lanaija Woodfolk, Kamren Scott, Imani Lamar, Jacob Sessions, Christina Short, and Allora Mowery also received roles.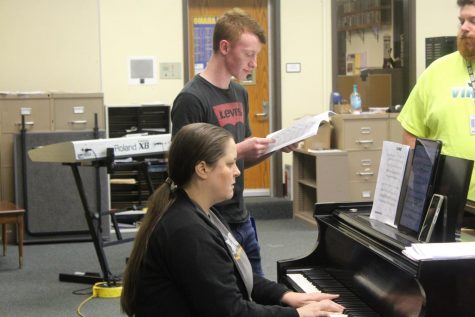 About a month before the showing, crew members will be called to a meeting to decide what things they want to do in order to produce the play, and then a week before the showings begin, the members practice their jobs which include lighting, audio, and moving the set. Anyone who wants to be a part of the crew is welcome to come to the meeting. Crew members aren't in charge of building the set, but that is saved for Brown's advanced stagecraft class as part of the class.
Brown handles the non-music side of the musical, including designing the show, the lighting, the sound, and blocking while Purdham tends to the more musical side. They do come together to figure out the casting.
"In terms of physical work, the students probably do 90 percent of the work… it's mostly student done and built," Brown said.
You're a Good Man, Charlie Brown begins showing in North's auditorium on November 8 and 9 at 7 p.m., and November 10 at 2 p.m.