The Expendables 3 doesn't blow up the competition
September 26, 2014
When, I sat down to watch the Expendables 3, I wasn't expecting much. I thought it was going to be something like the Inglorious Basterds mixed with Mission Impossible.
However, I found that despite a few major flaws, such as excessive explosions and a few cliché moments, the third installment of the Expendables was surprisingly interesting.
As is customary with many action movies, TE3 started out with a fast-paced scene. This particular scene was quite unusual and somewhat unrealistic, as it involved a prison transport train that probably had enough small arms and heavy weaponry to capture a city.
Yet someway somehow, Sylvester Stallone and his band of misfit mercenaries manage to successfully maneuver a helicopter behind the train to avoid anti-aircraft fire coming from the train. Eventually, the Expendables manage to rescue the prisoner within (who turns out to be one of the original Expendables), and are just about to escape when the prisoner has a REVENGE moment, and decides to blow up the prison where he was being taken with a cannon firing atomic bombs. That's what it looked like anyway.
Even with an unrealistic opening scene, the overall film wasn't entirely crap. The plot was interesting enough, due to the fact that it wasn't your usual "bad guys have somehow managed to gain advantage over good guys, now good guys have to go against impossible odds to stop them from blowing up the world," scheme. In fact, the movie was based around Stallone gathering a new, younger, expendable team to take out the old co-founder of the Expendables, who betrayed them.
It was somewhat cliché, in that the old expendable had to rescue the new ones, but still made for a pretty decent film.
Another annoying part was the excessive explosions. One prominent example was at the end of the first scene where Stallone remotely blows up his helicopter. The film neither bothered to explain the explosion, nor did it seem necessary at all. It just was.
In conclusion The Expendables 3 was a pretty decent movie, despite a few drawbacks. It had its ups and downs, but in the end I'd say it was worth my time, even if it wasn't perfect.
Leave a Comment
About the Contributor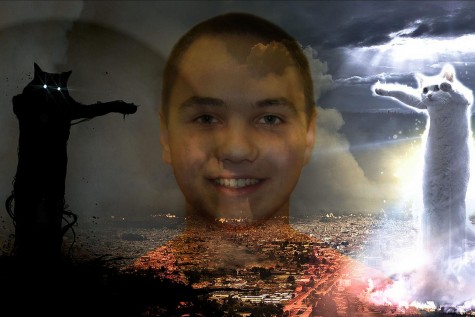 Alex Sterling, Entertainment Manager
I'm a senior and I'm in JROTC. Praise Doge.