OPD's Explorer Post kicks off the year despite threats of cancellation
November 2, 2015
The Omaha Police Department Explorer's Post 591 has officially kicked off its year despite almost being called off on Monday, September 21st, 2015 by Chief of Police Todd Schmaderer. "At times, the department has to tweak numbers in the program due to call load of officers and safety of the citizens," Sergeant Erin Payne, director of explorers, said.
10 new explorers and 20 returning explorers pooled into the Public Safety Training Center (PSTC) on Thursday, September 24th, 2015 for their first official meeting.
The Explorer Post 591 is a career exploration program that allows juniors and seniors in high school a chance to learn and experience the law enforcement field. Explorers get a chance to tour and talk to each department, including bomb squad, canine unit, and Gang unit.
Explorers tour the Douglas County Correction center, the dispatch center, and the youth correctional facility. Explorers also get hands on experiences with handcuffing, building searches, traffic stops, and ride-alongs.
"I like building searches, you get really giddy, everything's dark and you're walking against a wall and looking for things that aren't supposed to be there," Nick Williams, senior at Omaha North said.
Explorers also get to work side by side with the Police by volunteering in the community. Events like Cops and Bobbers, where officers teach children how to fish and fishing safety, and First Responders day, in which Police, Fire, and EMS teach the public about safety and security, are just a few events.
Explorers help guide guests, wear McGruff and Johnny Justice mascots, and aid the Officers in building relationships with the community.
Due to an increase in call load in 2013, Officer Joel Strominger, the advisor of explorers, was put back into patrol. This move caused a rift in the program, as there was no set advisor to take Strominger's place. Chief Schmaderer took this as a sign to postpone the program a year. Payne knew this was a bad idea, saying that if it didn't run this year, it would never run again.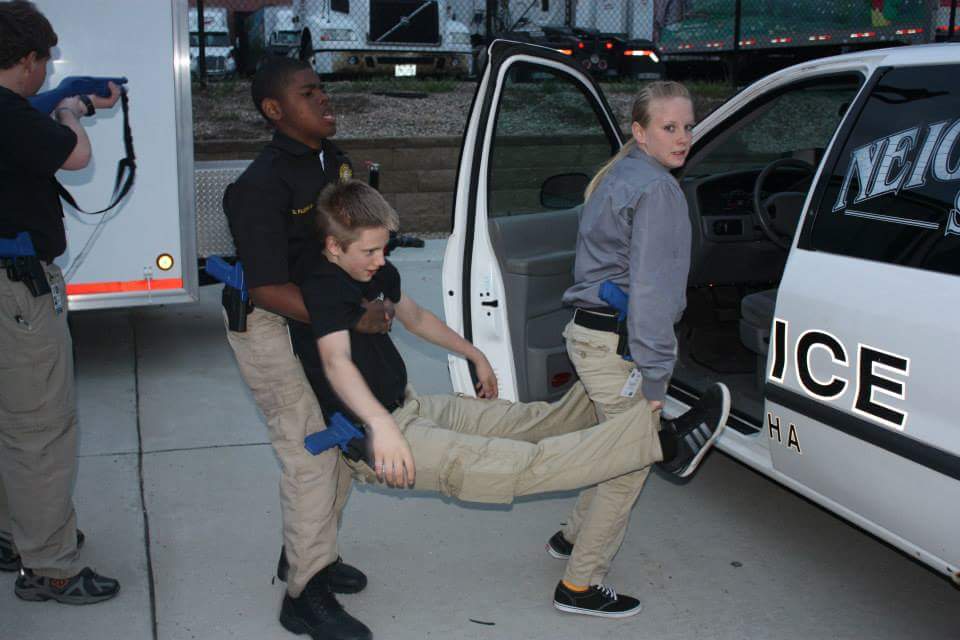 Sergeant Payne sent Schmaderer a letter detailing how important the program is to the community. A parent of an explorer had explained how explorers turned their son into a respectful and lawful man. Schmaderer decided the letter was enough, and told Payne to continue on with the program.
Payne has worked with the explorers and helped them at events for 7 years, but this is her first year in charge of the program. She has watched explorers mature and move on to reach their goals.
"I'm looking forward to the explorers really learning about the different units." Payne said.
Due to rapidly increasing numbers of applicants, all new explorers must be juniors and seniors. These new explorers will gain knowledge on different departments and how they work and will learn tactics and techniques used by officers themselves such as traffic stops and handcuffing.
"I want to really know how law enforcement works here and get all the knowledge that I can get," Erica Rivera, a senior at Omaha South, said.
Some new explorers are there to learn and engage, while others want to get a head start for their futures in law enforcement. Some returning explorers met Kerrie Orozco when she talked to them about the gang unit and what they do.
On Wednesday May 20, 2015, Officer Kerrie Orozco was shot and killed by a man wanted in an earlier shooting. Her death brought Omaha together to mourn and to celebrate her life.
On Wednesday September 30th, 2015, Kerrie Orozco was awarded the OCCP Police Officer of the year award. Her death brought Omaha together to mourn and to celebrate her life.
"Kerrie lived her life for others, it's who she was. She spent her free time helping others in the community she lived in and loved. Even in death, she still continues to give back to others by bringing our community closer," Said Payne.
Kerrie Orozco wasn't the only officer shot and killed this year. On Tuesday September 1st, 2015, Lieutenant Charles Joeseph Gliniewicz was shot and killed after pursuing three subjects on foot. He was an advisor for the Fox Lake Police explorers post.
More recently, on Wednesday September 30th, 2015, Officer Greg Alia was shot and killed after a struggle with a suspicious man inside a South Carolina mall.
"An officer has one second to decide whether to shoot or not to shoot a perceived threat. And while I would never suggest that an officer who truly kills another with malice is justified, there are times when an officer's split second decision is wrong," Payne said.
Payne believes that when an officer makes a wrong decision, it makes them human, not a criminal.
"I hate that the media chimes in each and every time an officer makes the wrong decision," Payne said.
Explorers are taught by officers how to avoid situations that may not end well as best as they can. They teach officer safety while also trying to protect subjects and bystanders.
"Don't let people tell you that you can't be a police officer because if you put your mind to it, you can be anything you want to be," Nakhyia Henderson, senior at Omaha Bryan, said.