EDITORIAL: Americans must start being involved with politics as it affects their lives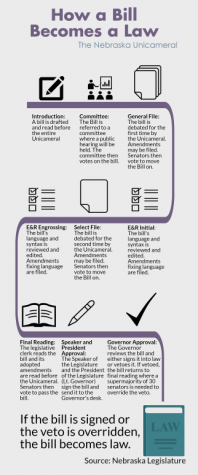 On Feb. 26, 2019, a bill (LB 206) that would protect journalism students and advisers from censorship by their administration was placed on General File after the Nebraska Judiciary Committee voted unanimously to pass it through.
Nineteen students and adults came forward to testify in favor of the bill, two testified in opposition, and a variety of letters of written testimony were sent in as well. This bill is proof that when students speak up and let their voice be heard, real progress towards change is made.
The students voicing their opinions on LB 206 could've served as a reminder for what it was like to be a high school student. They also could've offered insight for what it is like to be a high school journalist in a school that requires prior review.
As journalists in a state that still allows prior review, we are constantly fighting for our voice to be heard. To do this, journalists, as well as other Americans, must be actively aware of what is going on in the government.
There are many benefits of being involved in politics which include being more informed, making new friends, having a better idea of who to vote for, creating a more effective government, and so many more.
Being involved in politics is something that some Omaha North students know well. Trey Smith, 12, is actively involved in politics by helping lead Nebraska's Youth and Government program. Being politically involved has helped him politically and socially.
"The benefit to me is being able to understand what is going on in the state and country. Also, the networks I've gained have been extremely valuable to me in my life," Smith said.
Since the government plays a major part in how we live our lives, it is crucial that Americans stay up to date, even if it is at the bare minimum level.
Smith regularly calls and emails Nebraska representatives to explain how he feels about certain bills that are up for debate.
"I believe that issues in our country that can't be felt by the typical politician be they in Washington or in Lincoln get swept under the rug if people don't speak up. For people to get involved there's a lot they can do anything from writing or calling their representatives to make them aware of issues important to them or ask them to support specific legislation," Smith said.
The government is constantly introducing bills that will directly or indirectly affect our lives and the lives of people around us.
For example, if LB 206 is passed, all journalists that go to a public high school or college in Nebraska, would have the opportunity to publish their publications without having to get it approved beforehand.
Journalists can now publish their articles on a more timely basis and don't have to worry that their administration might censor them. This also means readers will have more material to read a lot quicker and the articles may be more in-depth as well. This not only benefits journalists, but also their readers which is why this is a great place for people to start when figuring out how to be more involved in politics.
Even though LB 206 hasn't been passed yet, the reason other bills are passed is, not only because of their legitimacy, but also, because of their backing by people who consistently support the bill by staying up to date and contacting representatives expressing their support. This means it is the people's responsibility to be the voice for this bill and many others.