Szynskie receives unique chances
Jessie Szynskie didn't get what most people consider a "normal" childhood. She didn't get to do extracurriculars like all of her other friends got to do. In fact, she didn't get many childhood experiences that her friends got. Years later, as a senior in high school, Szynskie considers herself lucky for all the unique experiences that she did receive due to her unique situation.
Szynskie is the youngest out of three siblings, two sisters and a brother. She currently lives at home with her oldest sister, Abby Szynskie, who is 24 years old and has special needs.
What Abby has is considered unknown, but it has similar symptoms to someone diagnosed with Down Syndrome.
"She's considered high-functioning…but her brain is not the same as everyone else's. She's smart in her own ways," Szynskie said.
At a young age, Szynskie would complain about her situation, feeling that she was being denied opportunities, like dance, that all of her friends did. Years later, at 17 years old, she realizes those things "[didn't] even matter" because she considers growing up with her sister an opportunity in itself.
"People didn't get the same opportunity as me to grow up in a household where things weren't perfect. And I think that's kind of a way that I was lucky," Szynskie said.
Szynskie feels that she gets to see a whole different side of the world because of her sister. The life that she got "changed the way [she] sees people."
When Szynskie walks down the street with Abby, she can feel the eyes of random strangers staring at them. Instead of being angry that people are staring at them, she understands that it is normal to stare at what is a little bit different. She wishes, though, that people would just ask questions instead.
Growing up in a household that isn't "normal" gave Szynskie a new perspective on life and helped shape the person she is and the person she wants to be. Her different outlook on life created a desire to help people in similar situations to Abby. This desire was able to come alive at a research project program that Szynskie did over the summer.
Being one of five North students chosen for a summer research project at Creighton University was the "best thing [she's] done in her life."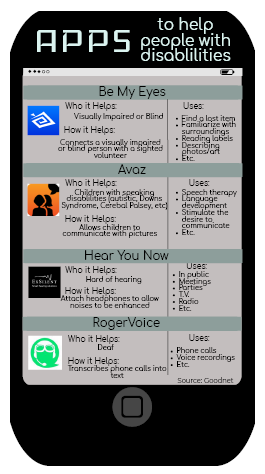 The project that Szynskie was selected for revolved around helping the visually impaired. The primary goal that Szynskie, along with undergraduate students and a professor, worked toward was an app that would make math easier for the visually impaired.
The app was made to help the visually impaired and blind through verbal cues and various vibrations. The purpose of this app was not necessarily to make math easy but to make it adaptable, because no matter what, "things are going to be difficult."
She considers herself lucky being selected for this specific project because she got a chance to help people with disabilities, something she was already familiar with, yet she also got to look at the engineering side. Engineering is already a topic that she is passionate about and would like to pursue a career in one day.
The first few weeks of the project was dedicated to eight-hour days reading research papers. The topic Szynskie was studying, visually impaired and blind, was limited to only about 100 research papers. This may seem like a large number but when compared to a topic such as "fitness and exercise," there are millions of research papers according to Szynskie.
This showed her that "people don't always consider people with disabilities."
"I want to help [disabled] people get the same opportunities as someone without a disability," Szynskie said.
This desire to help disabled people was built upon during the research project but it was established a young age. Watching Abby, who suffers from a disability "work so hard to get to where she is today" has impacted what Szynskie wants to do. She wants to help the disabled not necessarily make things easier but make things more adaptable.